Santa Maria di Leuca Surroundings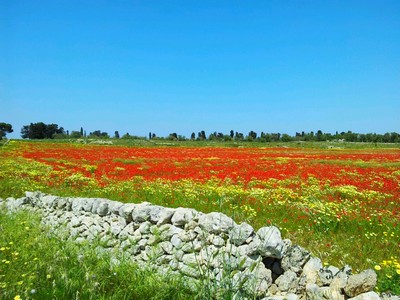 A few kilometres from Santa Maria di Leuca stands Patù, a small town rich in history, where once stood the Messapian town Vereto, destroyed by the Saracens and whose traces still remain on the hill with the same name. The port of Vereto, whose ruins are still visible under water, was located in place of today's seaside resort Torre San Gregorio. Also of interest, the Centopietre, a funerary monument built with blocks of tufa stone from the city of Vereto. It is located near the church of San Giovanni Battista and its interior walls are covered with frescoes of great religious interest.
Heading north-west, we encounter Ugento, a renowned City of Art, which like Patù, is located close to an ancient Messapian town, whose remains and objects can be admired at the Archaeological Museum. Further inland between Ugento and Tricase Porto (the area is known as the Hills of the Salento), there are many villages whose historical centres are the most beautiful and characteristic of Salento. Among them, Acquarica del Capo with its imposing Sforzesco castle; Ruffano whose hamlet, Torre Paduli, is known for its traditional dances simulating a fight; Specchia one of Italy's most beautiful village; Miggiano and its Menhirs dating from the Bronze Age; Alessano with its cobblestone streets and palaces; Corsano and its beautiful marinas called Scalamasciu, Funnuvojere, Scala Preula and the Guardiola; Tiggiano and its Museum of Art and Philosophy; Tricase and its beautiful squares: Piazza Antica and Piazza Pisanelli.