Brindisi and Taranto Surroundings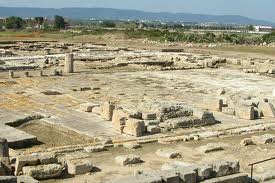 The archaeological site of Egnatia, marks the border between Bari and Brindisi. On this site once stood the city of Gnathian populated by successive civilizations including Messapians, Romans and Greeks. Inhabited since the Bronze Age, Egnatia played a central and strategic role in the trading activity at the time, due to the passage of the Via Traiana which connected Rome to Brindisi and the Roman port overlooking the Adriatic Sea. Nowadays, one can still discern the Roman Forum, the early Christian Basilica, the civil Basilica, the messapian necropolis, the Roman port, the stone slabs of Via Traiana and other submerged remains. In Messapian necropolis were found ceramic vases with colour decorations on a black background, which will then be named "Gnatia style".
A few kilometres from this fascinating archaeological site, lies the town of Fasano. It hosts the first wildlife park in Italy, called Zoosafari Fasanolandia. It includes a drive through safari park in the visitor's own vehicle among tigers, lions, elephants and other wild animals. The park also offers walk around animal areas and an attraction park to enjoy all day long.