Porto Selvaggio è una località del comune di Nardò, in provincia di Lecce. E' un'area di circa 1.000 ettari di parco (Parco di Porto Selvaggio e Palude del Capitano), protetta della Regione Puglia ed istituita nel 2006. Si trova lungo la costa a metà strada tra Porto Cesareo e Gallipoli, a ridosso di Santa Caterina. Proseguendo verso nord lungo la litoranea Santa Caterina – Porto Cesareo, arriverete al punto più bello della costa salentina che si affaccia sullo Ionio: la Baia di Uluzzo. Questa baia è molto meno accessibile della precedente, più impervia, e costa maggiore impegno per via della ripida discesa che si deve percorre per accedervi. Un consiglio è quello di vedere il tramonto in agosto, il sole che tramonta alle spalle della Torre Uluzzo: fantastico! Sulla strada noterete, oltre alle rovine della Torre Uluzzo, anche una tipica costruzione salentina, fatta tutta a secco: lu furniedhru (solitamente chiamati anche  truddhri, pajare o pagghiare). Inoltre, la baia di Uluzzo è una delle località più importanti nel Salento per quanto riguarda l'archeologia preistorica. Le principali grotte e fonti di ritrovamenti della baia sono la grotta del Cavallo, che con i suoi otto metri di spessore di sedimenti documenta oltre 120 mila anni si storia, la grotta di Uluzzo, ubicata al di sotto della torre omonima, e la grotta Cosma.
E' davvero indispensabile trascorrere una giornata immersi nella bellezza e nella natura di Porto Selvaggio, ne resterete a dir poco estasiati!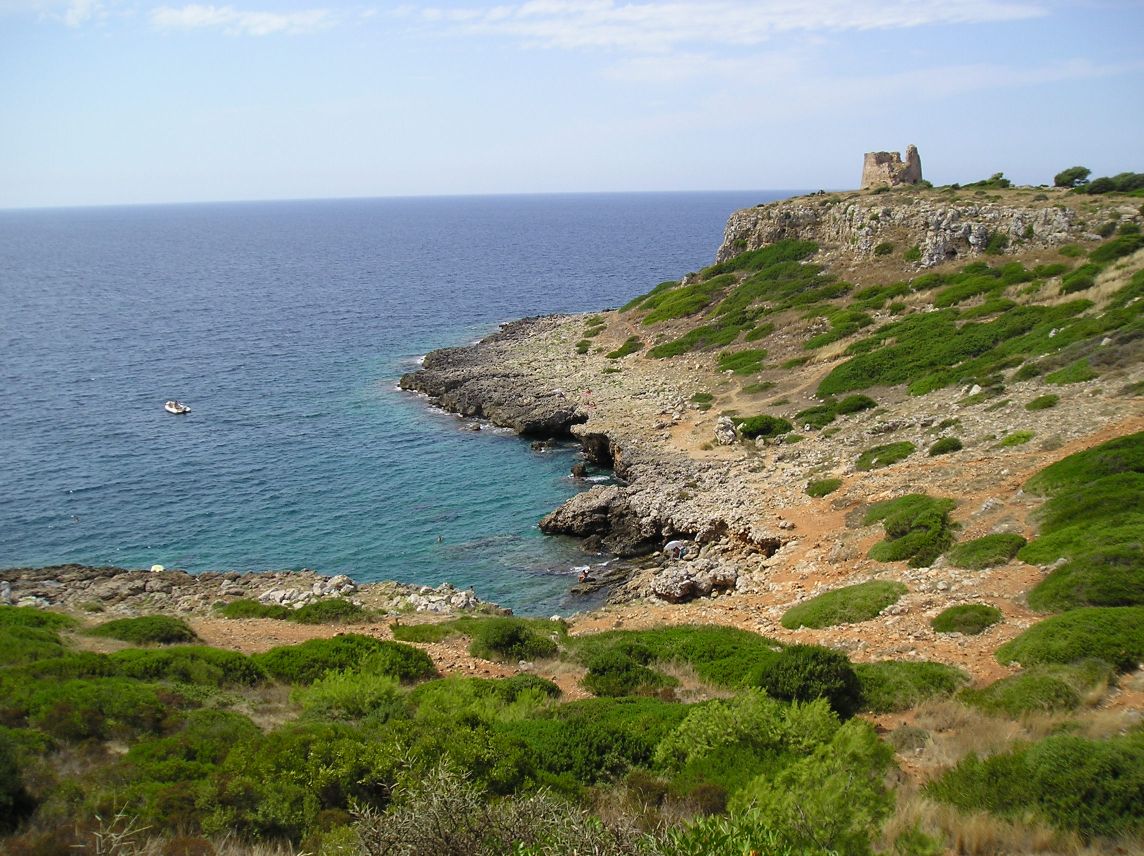 Porto Selvaggio

is

a

place

in the municipality

of Nardo

, in the province

of Lecce.

It

's

an area of ​​approximately

1,000 hectares of

park (

Park

of Porto Selvaggio and

Captain Marsh

), protected by

Apulia Region

and

established since 2006

. It's l

ocated along the

coast

halfway between

Porto Cesareo

and Gallipoli

, close to

Santa Caterina

.

Continuing north

along the coastal

Santa Caterina –

Porto Cesareo,

you will arrive at

the most beautiful point

of the Salento coast

overlooking

the Ionian Sea

:

the

Uluzzo Bay

.

This bay is

much less accessible

than the last,

most

rugged

, and it costs

more effort

because of the

steep

downhill

that you have

to run for reaching it.

A piece of advice

is to

watch the sunset

in August,

the sun setting

behind

Tower

Uluzzo

:

fantastic

!

On the way

you will see,

over

the ruins

of the Tower

Uluzzo

also

a typical

Salento building

,

dry-made

: "lu

furniedhru"

(usually

also called

truddhri

,

pajare

or

pagghiare

).

In addition

,

Uluzzo Bay

is one of the

most important places

in Salento

with regard to

prehistoric archeology

.

The main

sources of

caves and

findings

of the bay are

the cave of the

Horse,

with its

eight-meter

thick

sediment

documenting

over 120 thousand

years of history

, the cave

Uluzzo

located

below the

tower

of the same name

,

and the cave

Cosma

.
It's really necessary to spend a day immersed in the beauty and nature of Porto Selvaggio, you will be hooked of course!
Visita il nostro sito www.salentodolcevita.com e trova la miglior soluzione per le tue vacanze nella splendida terra Salentina!
Visit our website www.salentodolcevita.com and find best solutions for your holidays into wonderful land of Salento!