Torre Paduli è patria dei famosi Tamburellisti, un gruppo di musicisti che da diversi anni promuovono la pizzica salentina nella sua forma più pura ed originale. Il collettivo ha sede in Torre Paduli ma viaggia in tutto il territorio nazionale ed anche all'estero esibendosi in spettacoli di pizzica con musica e balli tipici. Sono considerati il migliore gruppo di tamburellisti a livello mondiale e sono frequenti le loro apparizioni all'interno di programmi radiofonici e televisi.
I tamburellisti di Torre Paduli danno vita a spettacoli unici, inserendo all'interno delle performance oltre ai tamburelli anche violini, fisarmoniche e ballerini di pizzica. La loro presenza è richiesta a livello mondiale, infatti si sono esibiti presso teatri e palcoscenici di tutto il mondo riscuotendo un enorme successo di pubblico e critica.
Naturalmente il collettivo è parte fondamentale della Notte della Taranta, dove si esibiscono proponendo al pubblico il meglio che si può trovare nella musica popolare ed in particolare nella pizzica del Salento.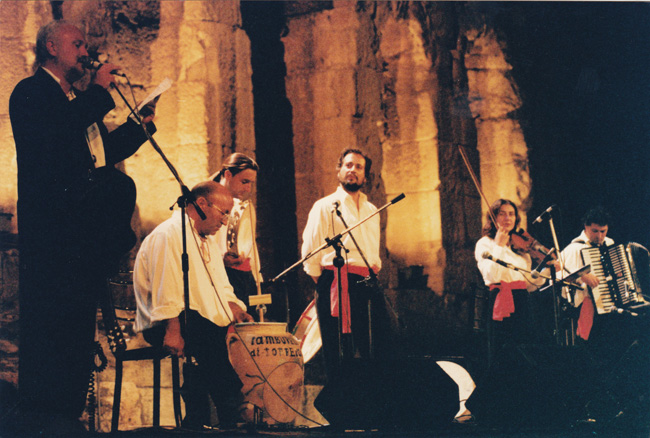 Torre

Paduli

is home

of the famous

Tamburellisti

, a group of

musicians who

for many years

promoting

pizzica of Salento

in its

purest form

and original.

The group

is headquartered

in

Torre

Paduli

but

travels all over

the country and

even

abroad

, performing

in

shows

pizzica

with music

and dancing.

They are considered

the

best

group of

tambourine

in the world and

their appearances

are common

in

radio and

television shows

.
The Torre Paduli's tamburellisti give life to unique shows, inserting within the performance as well as the drums even violins, accordions and pizzica dancers. Their presence is required in the world, in fact they performed at theaters and stages all over the world proving a huge success with audiences and critics.
Of course, the collective is a fundamental part of the Notte della Taranta, where they performed, offering the public the best that you can find in popular music and in particular in pizzica of Salento.
Visita il nostro sito www.salentodolcevita.com e scopri le offerte per la tua vacanza in Salento!
Visit our web site www.salentodolcevita.com and find offers for your holiday in Salento!