Tra i luoghi più belli, all'interno dell'oasi protetta dei laghi Alimini, è la Baia dei Turchi: si tratta del luogo dove, secondo la leggenda, sbarcarono i turchi nel XV secolo quando devastarono Otranto ed uccisero i noti martiri idruntini. É una zona selvaggia ed incontaminata che è possibile raggiungere solo a piedi: dopo aver attraversato un piccolo bosco si esce in piena baia, un posto davvero incantevole con calette sabbiose non affollate. La costa qui è caratterizzata dalla roccia erosa e da grotte ed insenature visitabili soltanto accedendovi dal mare. Ci sono poi arenili di sabbia bianchissima, dune e vegetazione profumata. Questa spiaggia incontaminata ha inestimabile valore paesaggistico tanto da essere stata inserita dal Fondo per l'Ambiente Italiano nei 100 posti da salvaguardare in Italia ed anche per questo si è evitata la costruzione di uno stabilimento balneare ed è tuttora una spiaggia libera.
Le acque del mare nei pressi degli Alimini offrono anche un paesaggio particolarmente suggestivo nei pressi del relitto della "Dimitros", nave che si incagliò vicino alla costa il 19 dicembre del 1978 per poi inclinarsi su di un fianco e tuttora ben visibile a pochi metri dalla spiaggia. La zona dei Laghi Alimini è anche un Parco Naturale protetto, ma il lungomare offre grandi stabilimenti balneari con tutti i comfort (parcheggio, case vacanze, cabine, sdraio e ombrelloni, animazione, bar e ristoranti) per il relax estivo dei turisti. Molti lidi si trasformano la sera in vere e proprie discoteche sulla spiaggia. Grazie al vento costante, le spiagge dei Laghi Alimini hanno anche possibilità di praticare sport acquatici come windsurf e kite-surfing, affittando le relative tavole.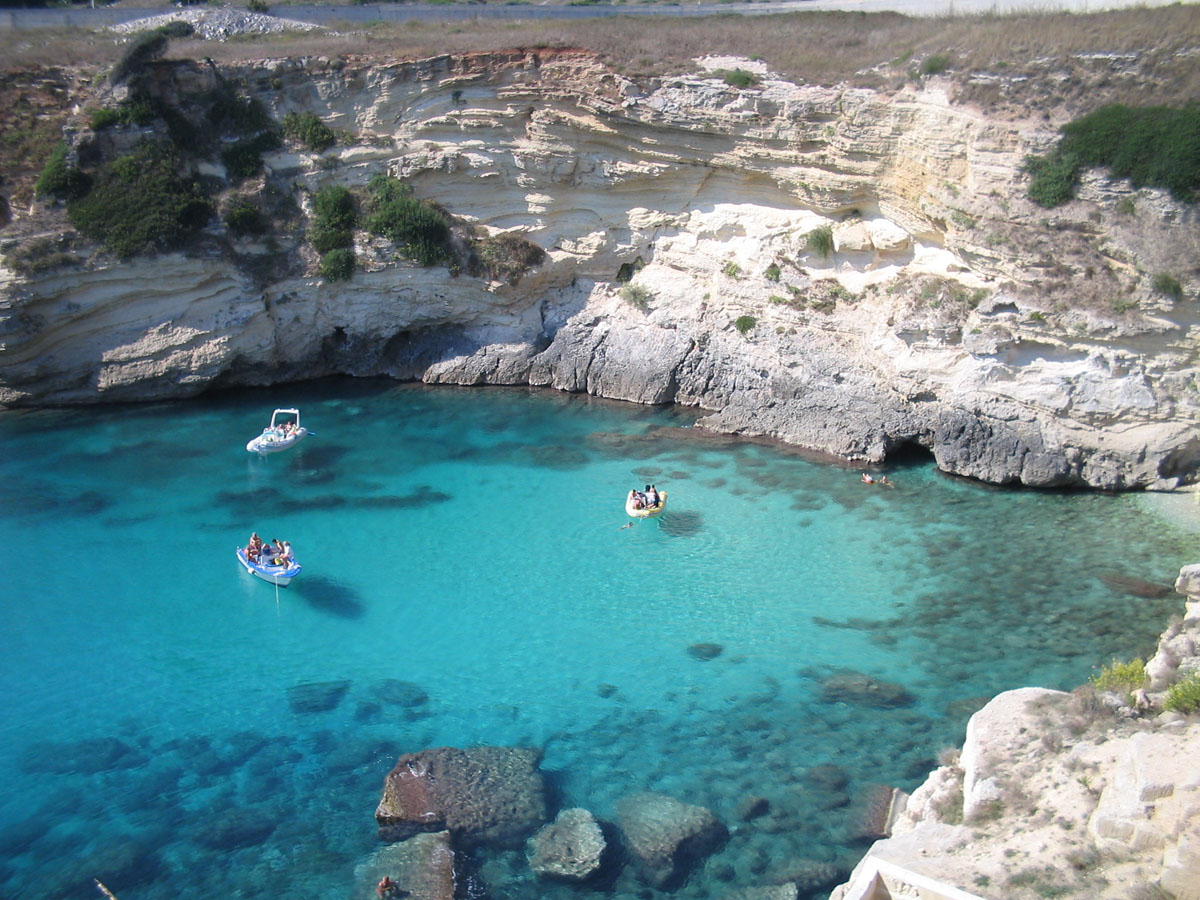 Among the most beautiful places within the protected Alimini Lakes, is the "Baia dei Turchi": this is the place where, according to legend, in the fifteenth century the Turks landed, devastated Otranto and killed the martyrs known as "idruntini".

It is a wild and unspoiled area that can be reached only on foot. After crossing a small forest you come out in the middle of the bay, a really lovely place with uncrowded sandy coves.

The coast here is characterized by eroded rock and caves and inlets visited only by accessing it from the sea.

Then there are beaches of white sand, dunes and fragrant vegetation.

This pristine beach has a priceless landscaped so as to be inserted by the Fund for the Italian Environment in the 100 seats to be safeguarded in Italy and for this reason it has avoided the construction of a bathhouse and still is a free beach.
The waters of the sea in the proximity of Alimini also offer a particularly beautiful landscape near the wreck of the "Dimitrios", the ship that ran aground near the coast on December 19, 1978, then tilted on its side and is still visible a few meters from

beach.

The area of ​​the Alimini Lakes is also a protected Natural Park, but the waterfront offers great bathing facilities with all amenities (parking, cottages, cabins, beach chairs and umbrellas, entertainment, bars and restaurants) for summer relaxation tourists.

Many beaches at dusk are transformed into real clubs on the shore.

Thanks to the constant wind, the beaches of Lakes Alimini also have the possibility of practicing water sports such as windsurfing and kite-surfing, renting their boards.
Vieni sul nostro sito www.salentodolcevita.com e scegli la soluzione migliore per una vacanza nei pressi della bellissima zona dei Laghi Alimini!
Come on our web site www.salentodolcevita.com and find the best solution for a great holiday nearby wonderful Alimini Lakes!