Cooking classes are funny and interesting activities to do on holiday: some villas of Salento are particularly suitable to host this type of activity. Let's get to know some them better
Everybody likes cooking classes! instructive, dynamic, funny and gourmet activities, they are a way to get to know the local culture, socialize with people who can tell about an area in an original way, as chefs and cooks do.
In the villas and masseria farms of  SalentoDolceVita, scattered in the most beautiful places of the territory, between countryside and dreamy coasts, it is also possible to organize in villa cooking classes or ask for a chef to come over and cook for you and your guests.
Some of these villas are particularly suitable for perfect cooking class activities due to the kitchen spaces and living areas where it is possible to share the dinner prepared together, chat, sip a good Negroamaro wine glass.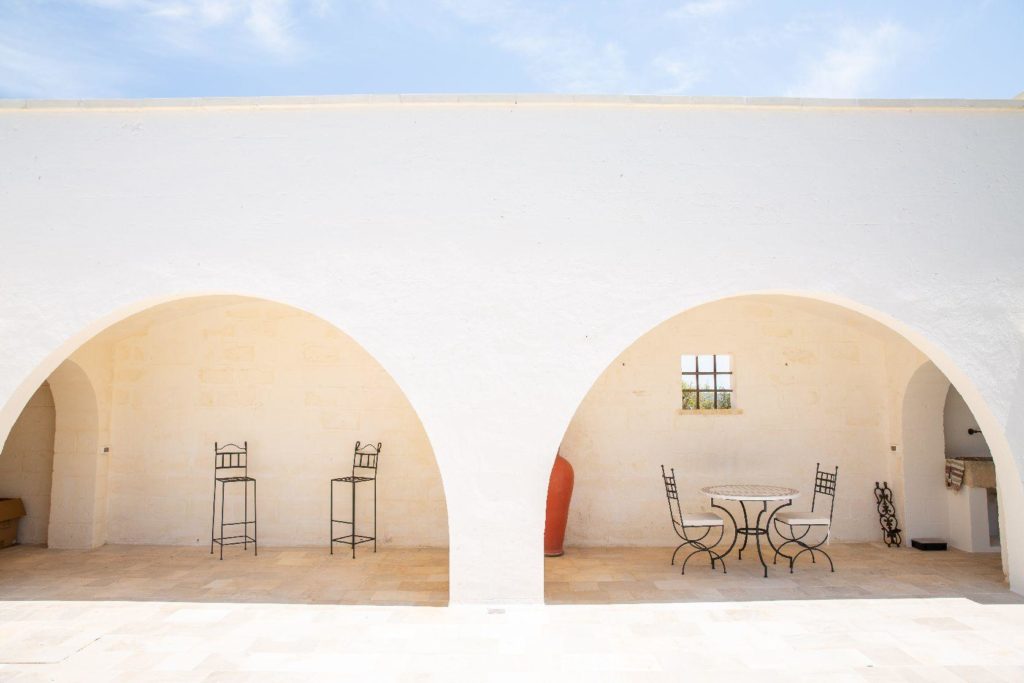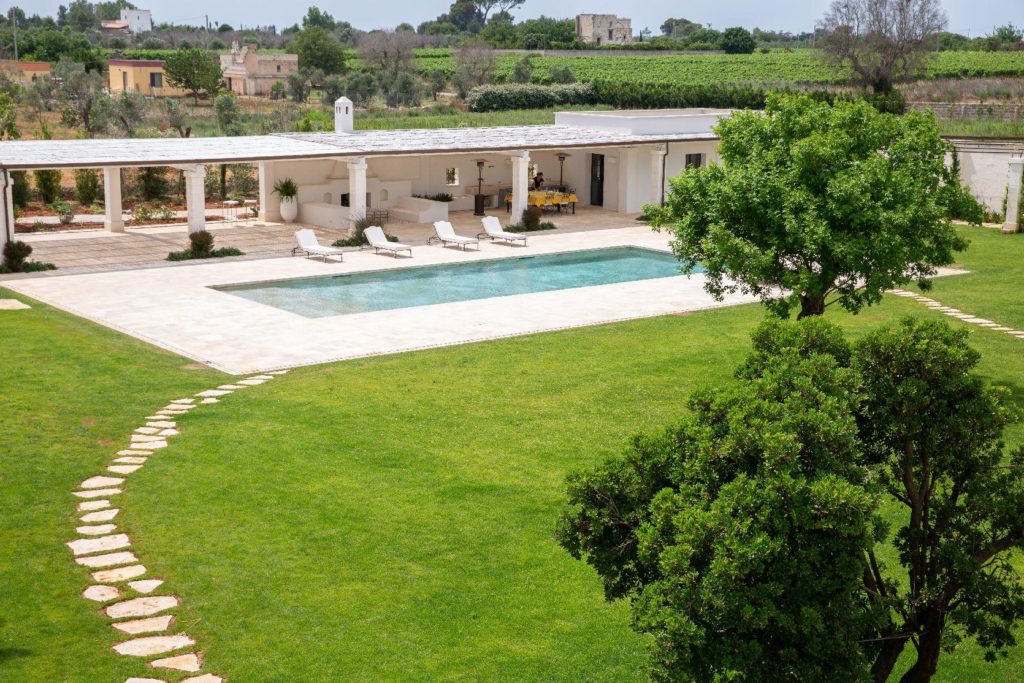 In southern Puglia, on the western side of the Salento peninsula, a few kilometers from the picturesque seaside town of Gallipoli and its famous beaches, we find this beautiful Masseria transformed, after a careful restoration, into a luxury villa with a pool of unmistakable charm.
The kitchen is as beautiful as the exquisite exteriors and high-class interiors of the rest of the dwelling: its wide and linear spaces, the typical light of Salento that comes from windows and glass windows on two opposite sides and, above all, the huge and functional island, make this space the ideal place for cooking class and cooking challenges with friends.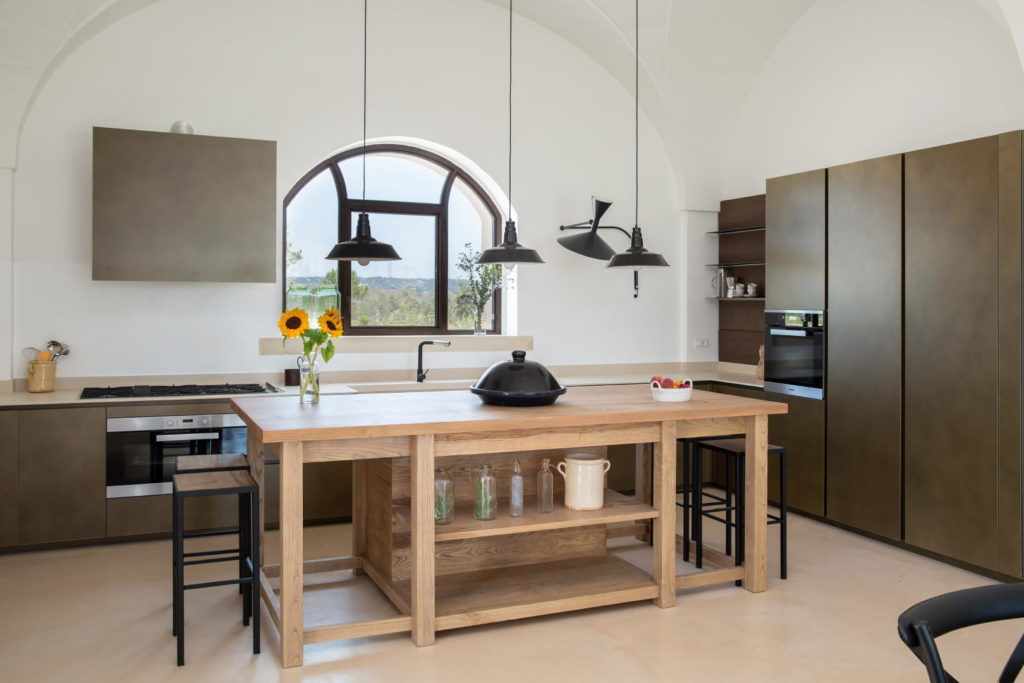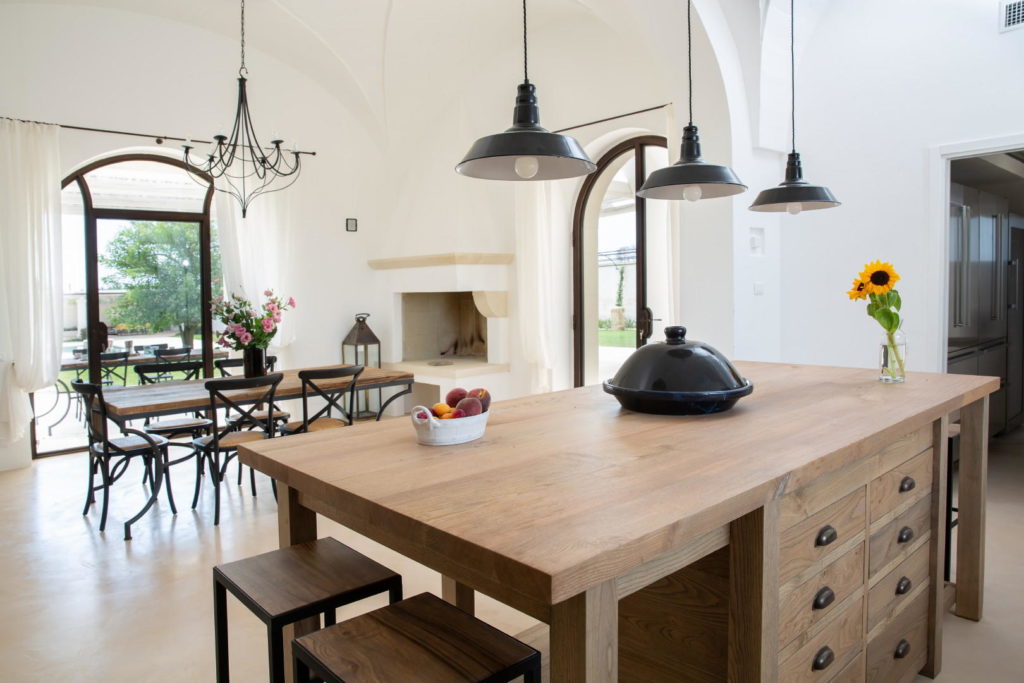 A large living area with a 10 people table next to a fireplace is also visible: so if in summer you can eat the product of the cooking class under the beautiful patio overlooking the pool, in autumn evenings it is possible to combine the culinary moment with the tasting one, with beautiful atmospheres.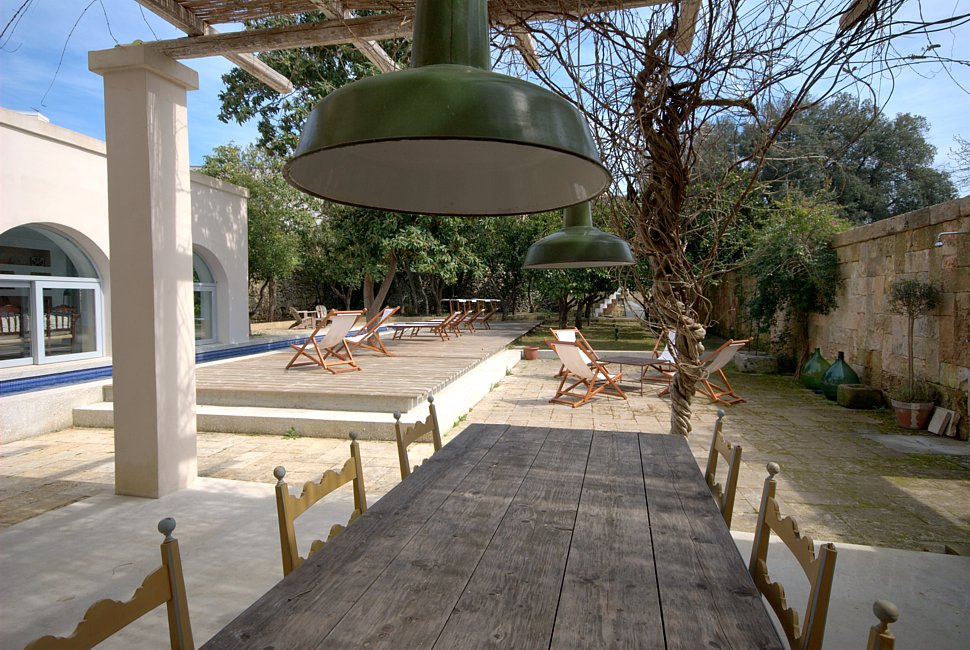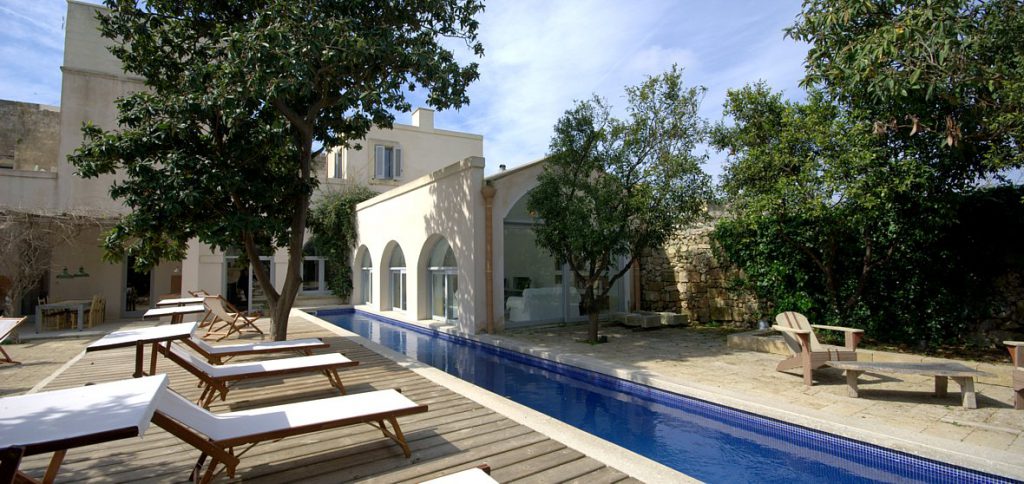 A few meters from the main square of an ancient and characteristic town of Salento,  rich in history and culture, and just 10 minutes drive from Otranto, we can admire Palazzo Artes. A historic building dating back to the 1500s, of great charm thanks to its stone fireplaces, its spacious rooms with star and barrel vaults furnished in an essential but sophisticated style at the same time and to its navy blue pool immersed in a lush orange grove .
If dinner can be served in a living area embellished with pieces from a collection of private modern art, its kitchen is made to welcome culinary experiences giving an atmosphere elsewhere that you won't find anywhere else. In fact, the kitchen of Palazzo Artes ismade up by original pieces of rustic peasant kitchens (stone sink and fireplace and a large renovated wooden table where grandmothers once used to prepare the best home-made pasta).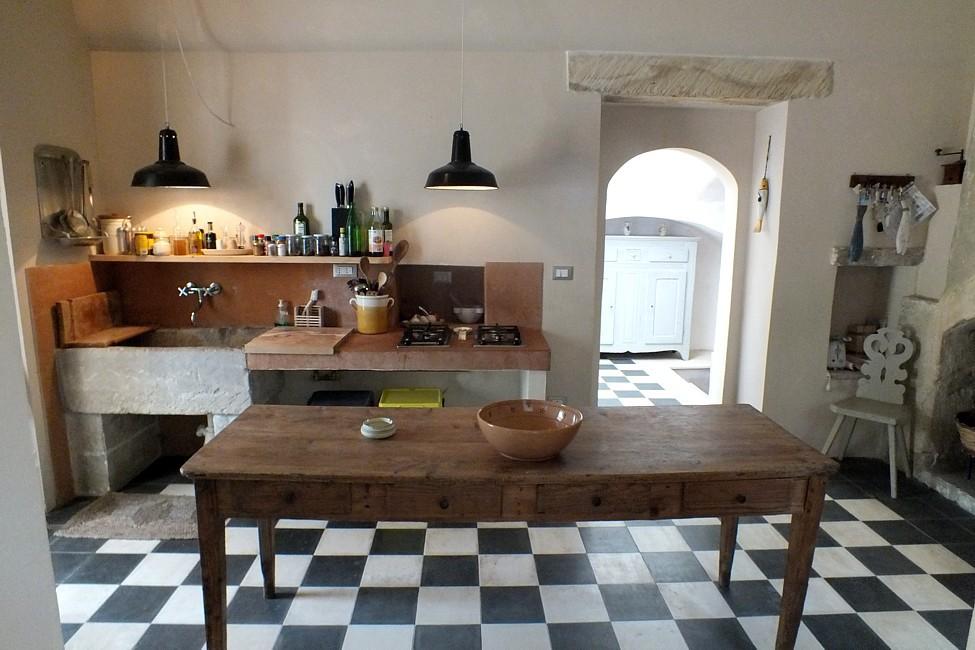 Villa Morice, immersed in the green countryside near the beautiful sea of Torre dell'Orso, is a large and very refined loft, where there are no dividing doors between the areas of the house (with the exception of the bedrooms) and all the rooms are open and communicating, so as to create, also thanks to large windows, a unique airy and perspective interior and exterior.
The kitchen open space is wonderful and original. A large island becomes a space to learn how to prepare traditional local dishes following the instructions of expert chefs or cooks or to watch the kitchen specialist who prepares your dinner or lunch at home in Salento while sipping an aperitif.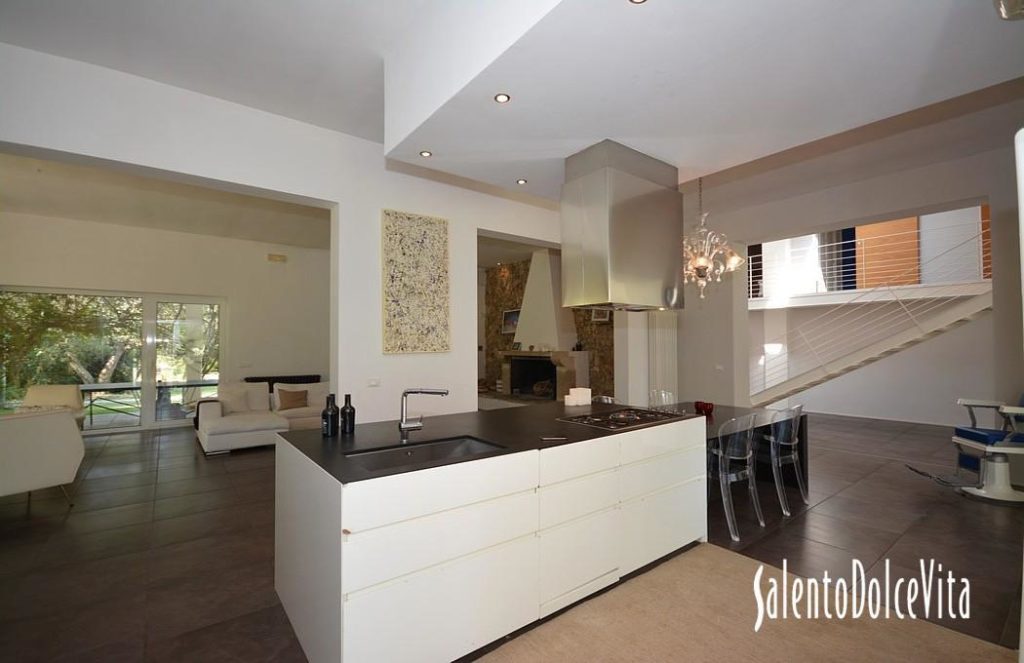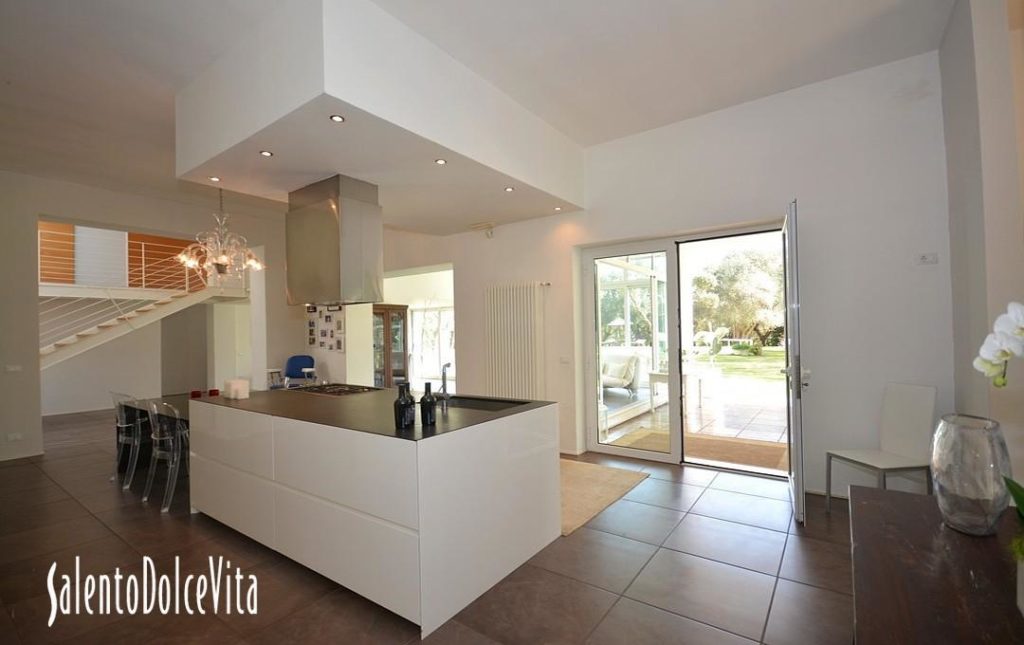 These are just three of the many villas and farms that SalentoDolceVita can provide for your perfect vacation! Also ask for your favorite extra in villa service, writing at booking@salentodolcevita.com