A mixture of building tradition, wise architecture and imaginative and modern design, the terraces of Salento, especially in the villages overlooking the sea, are a local feature not very well known but always able to leave people speechless.
Let's see what makes them special and why you should spend some time in one of them.
A need that becomes a trend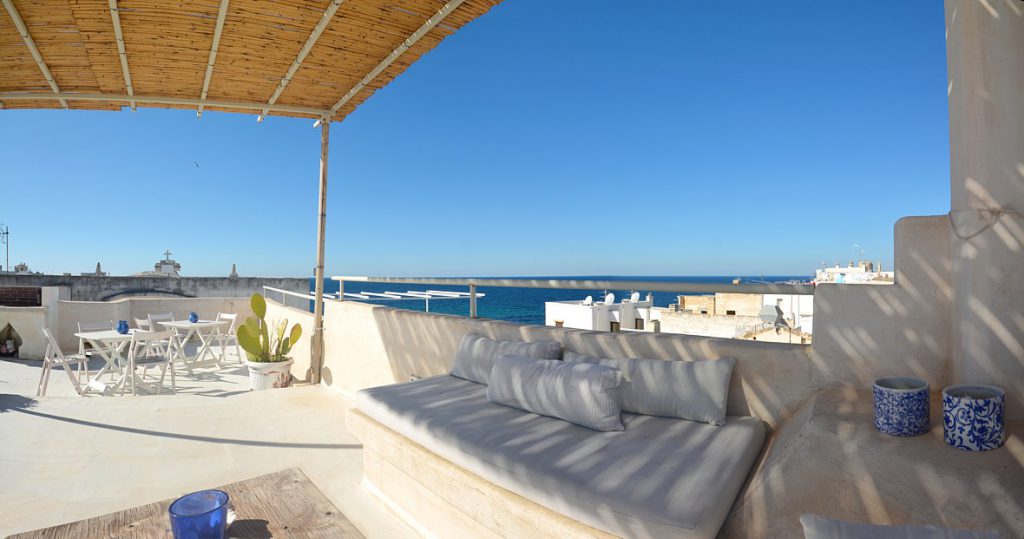 Watching by any high point and panoramic view of one of the many beautiful seaside villages of the Salento, you will have in front of your eyes an irregular landscape of terraces of different heights but all white or yellowish, anticipating the blue sea view.
This is due to the local climate and local building requirements, since this is no rainy land, where owners must deal with sea air and humidity over surfaces that must be as regular as possibile.
The prevailing absence of snow makes sloping roofs unnecessary and "flat" roofs are preferred.
It is customary for the owners of these houses to create on these terraces … a kind of open air second house .
Sofas to enjoy the sun and the west wind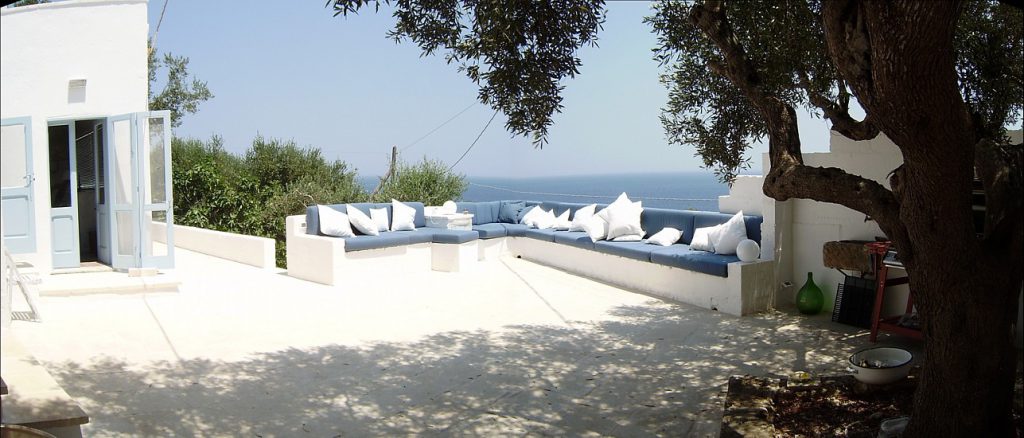 Therefore don't be surprised to see small sitting rooms furnished with imagination and class: stone base supports so that they cam remove the pillows when the season no longer suitable to spend open air evenings, elegant gazebo with simple drapes, easy to take off and put in quickly.
Convivial corners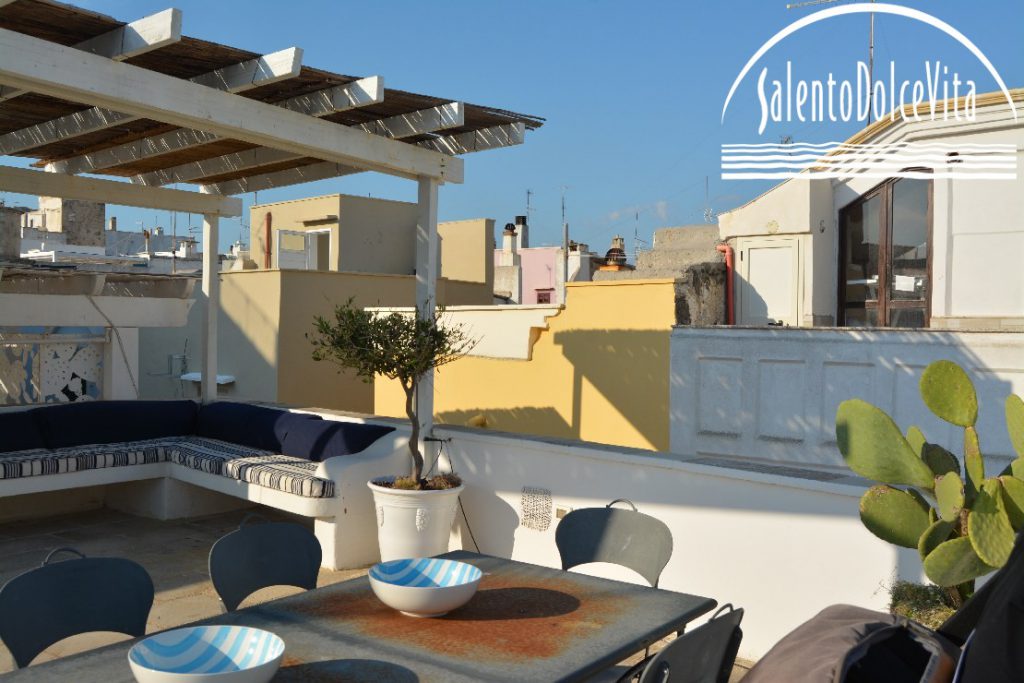 For locals, having lunch, breakfast or dinner on the terrace is a typical habit you'll fall in love with.
It's a very common thing, like a tomato sauce on Sunday, like good wine on special occasions, like "tarallini" at aperitif time. So it's not unusual to see raw wood tables created specifically for these spaces, where friends and relatives are welcomed from May to late October.
Rooftop gardens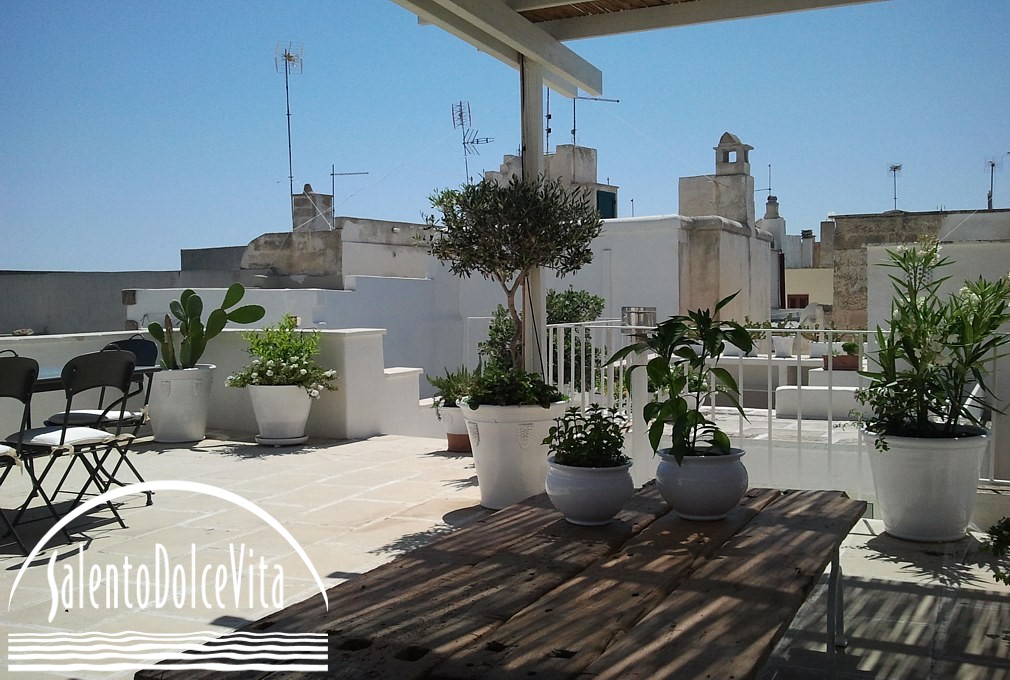 Many homes, expecially in the old sea towns, are passed from father to son for generations.
So, what was, in the Seventies, a small lemon plant planted by a grandpa, can be today a big tree bearing fruits, shadow and perfumes.
That's why on these terraces you can easily find true gardens, coming from love and attention… and modern exterior design consciousness.
Luxury gems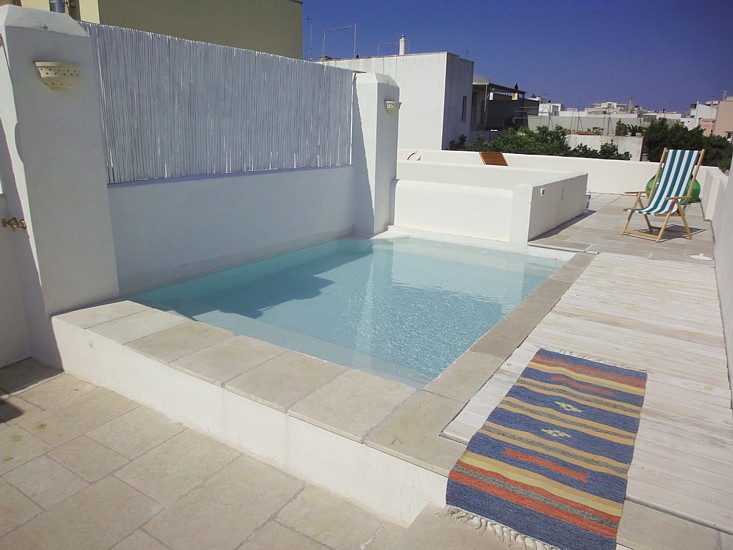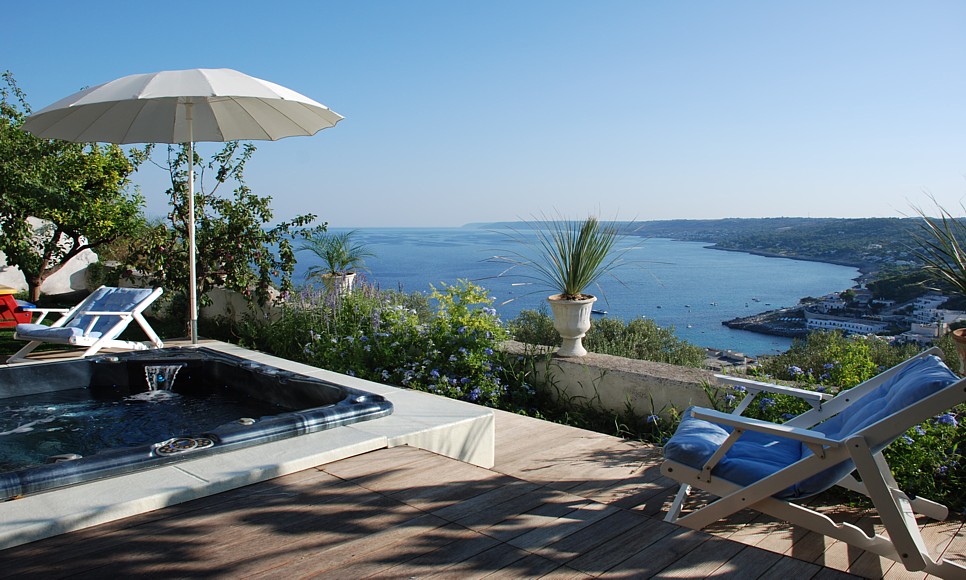 No need to have great lands to afford a pool, a solarium, a yoga and spa area.
The terraces nowadays the focus of interior designers around the world looking for solutions to make true luxury and classy gems out of these spaces.
If once there were only sun loungers and small hammocks up here, today they house refined swimming pools (often with sea view), massage beds, artificial lawns for yoga and meditation.