Villas with spa-baths, in the heart of the beautiful Salento
Once, when designers talked about interiors and well being, they mostly talked about the living areas. From the kitchen to the living room to the bedroom, giving a great deal of attention to furniture and materials.
The same attention was given to garden and exterior but little, very little attention to the bathrooms.
Those times are over.
Today, both in designing wellness-home and in choosing a place to spend a relaxing vacation, the toilet space is as important as any other room. For some people, it is even more crucial.
Bathrooms now become real "well-being" rooms, able to regenerate for their "private" nature, and because of new design trends.
Let's see together 6 Salento's villas bathrooms designed to make you feel good.
When well-being is "at the center", the tub is right there.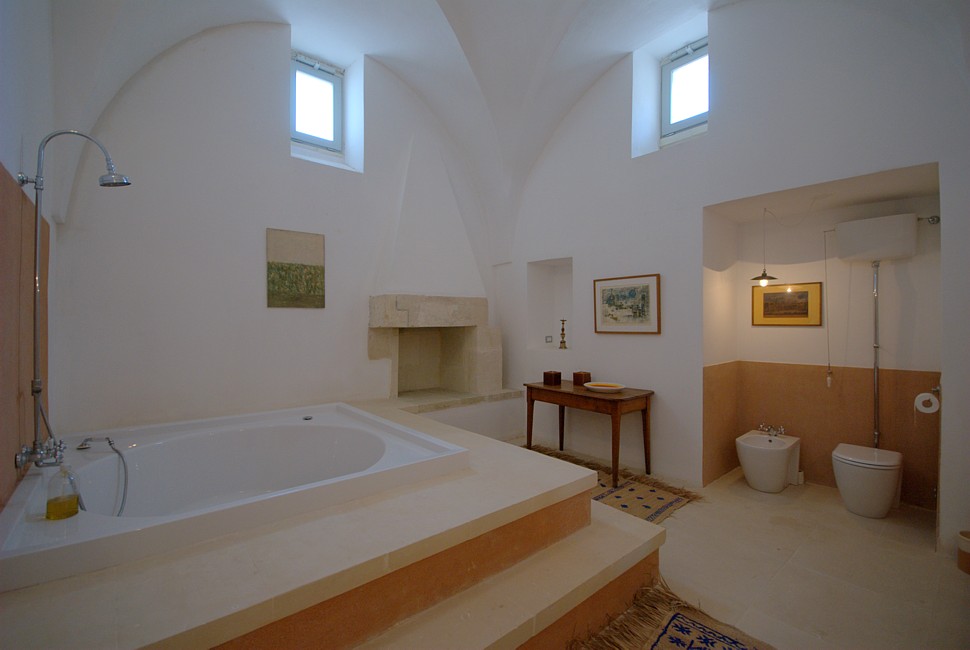 The tub central and prominent placement in Palazzo Artes (Otranto) is not only a design aspect but a concept expressed through design: wellness and relax is at the center of the whole concept of the home, and that's why the bath tub is set like a throne, like a trophy.
This is no place for a quick shower: it's a place that invites you to spend hours for yourself, without telephones and without the internet, without too much public relations except with ourselves.
A new shower experience
Even a shower can now get out of the concept of "quick shower".
There is no need for an emotional shower to give the right importance to this moment. Villa ELia starts by giving it, first of all, the right space, making the shower an aquarium where you'll be the only siren.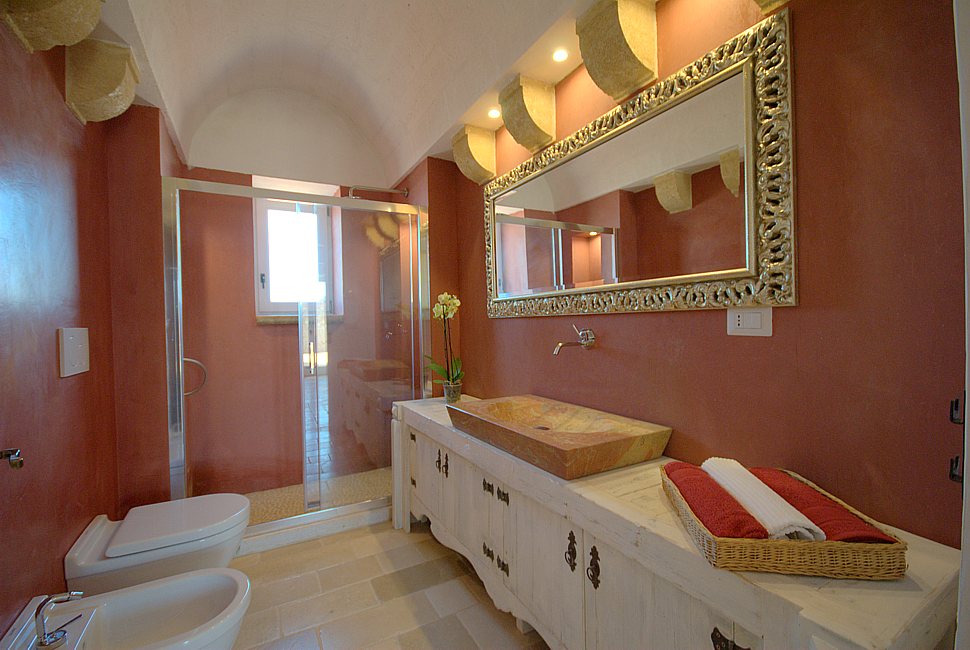 The feeling of being surrounded by "another" environment compared to the rest of the house is, however, taken seriously and re-opened even in the smaller bathrooms.
This idea is suggested in Masseria Terra d'Oro, with its bathroom where soft colors embrace all the bathroom space, where the shower has an almost invisible glass and everything seems to fluctuate as in the Batlo house in Barcelona.
Natural materials
As we have already said previously, natural materials are an indispensable element when talking about any home wellness area.
The bathrooms are no exception and have a special place in this idea.
From the total wood bathrooms of Villa Verna, where wood alternates stone elements, to the strong stone of the ancient peasant washbasins that become the leitmotif of Villa Rita and Villa Farnara, which adds to tadelak to ancient stones.