For many, the pool is a status symbol.
For many others it is a relaxing element or even a way to combine enjoyment with physical activity.
For many others it is a particularly beloved design element.
For us, a pool is all this and much more.
Let's see together how the latest trends in pool design are met in the best Salento's apartments, villas and historic homes.
Charm and class in small spaces
Design is a common passion for many travelers and pool design is something many of our guests pay attention to.
One of the latest trends in pool design is the harmonious insertion of small and medium size pools even in more cozy and small spaces.
Casa Goccia and Casa Dicastrio are an example of it;  these are two gemstones, welcoming our guests in Tiggiano and Castro respectively, that crown art-filled spaces, where nothing is left to chance.
Design to enhances the landscape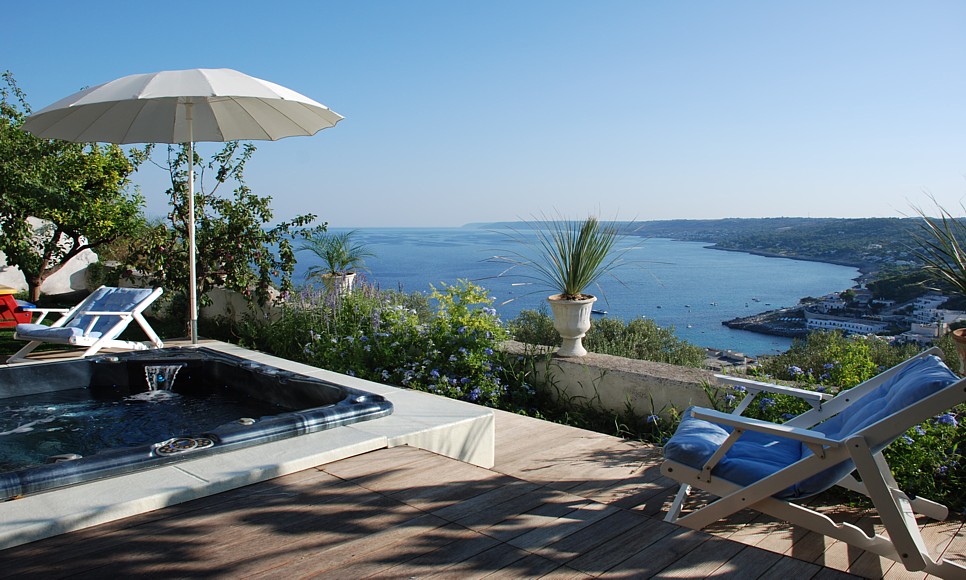 As a matter of fact, a swimming pool is not just a "water and chlorine bath", but a design element and as such it enhances what is around it.
The case of the small jacuzzi of Casa le Terrazze, Castro Marina, is good example of it.
You can't have long swims here, but the pool and its position was chosen to make you enjoy a truly breathtaking urban and natural landscape.
New materials to match with the surrounding landscape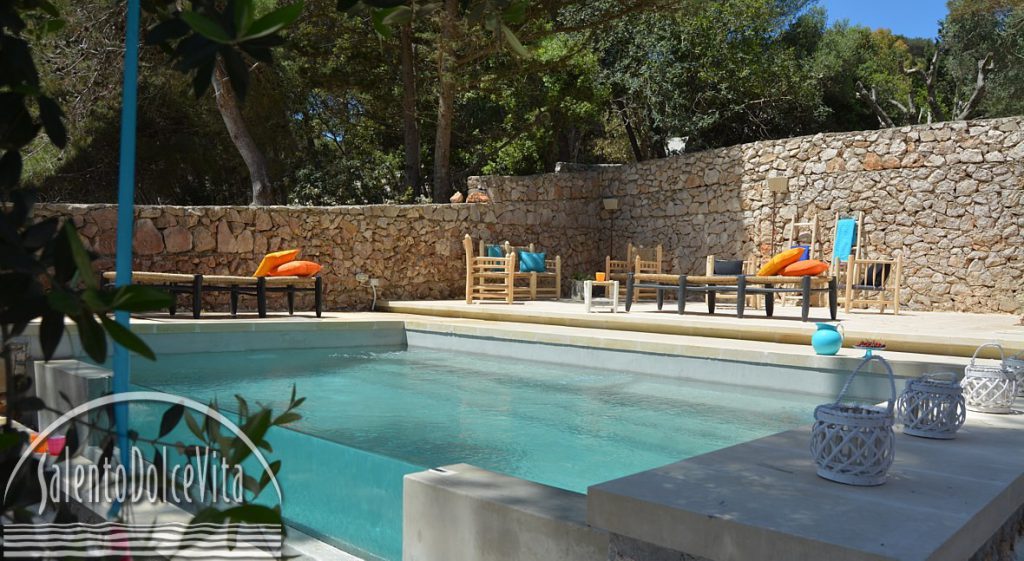 Here in Salento, in order to make construction harmonious with the local breathtaking scenery, we have been using new materials that alternate glass to give the idea of continuity with the sea you admire from the pool edge (or by Inside the pool itself), as happens in the beautiful pool of Villa Faro, in Castro.
Or in some other case, such as Villa Sunset (Santa Maria di Leuca), we use materials that recall the surrounding environment, to make diving similar to a bath in a natural water course.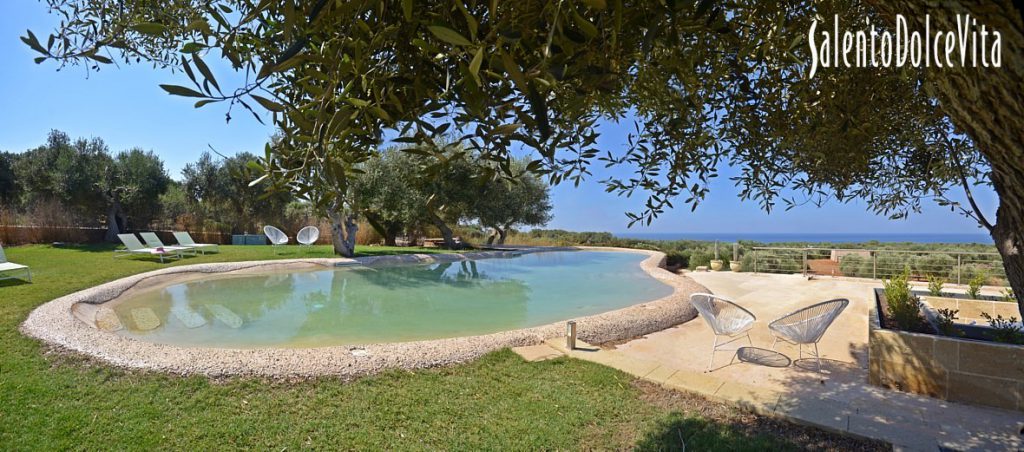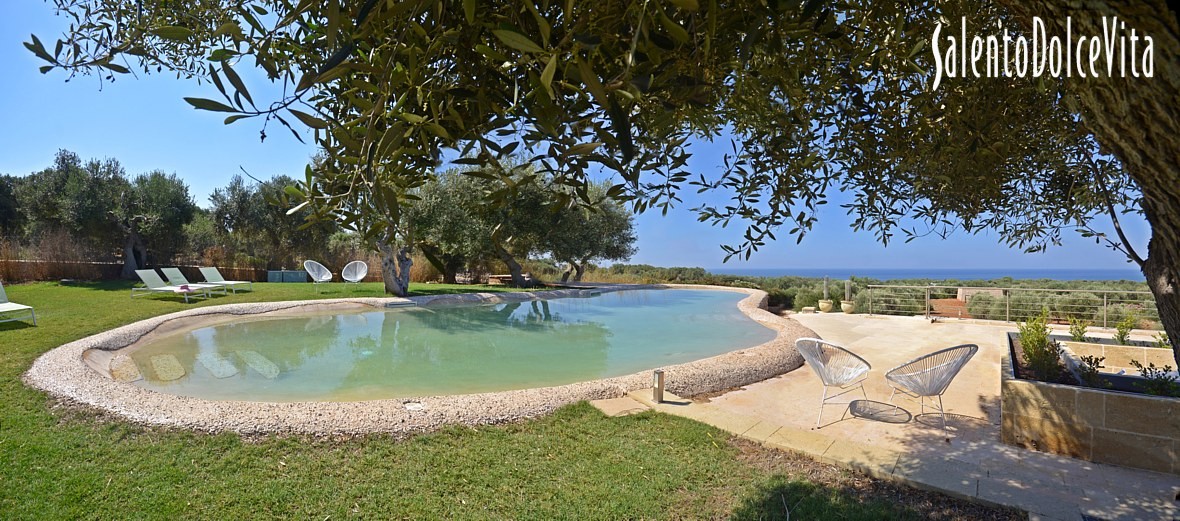 Non inground and removable
If once the removable and prefabricated pools were a children's game in the most dazzling summers, modern materials and the best designers made it a handy classy option.
An example is Villa Le Macchie, in Santa Maria di Leuca; Here also a small apartment full of charm can become pure luxury thanks to the modern swimming pool located on a terrace overlooking the most beautiful sea in Italy.
Classic is modern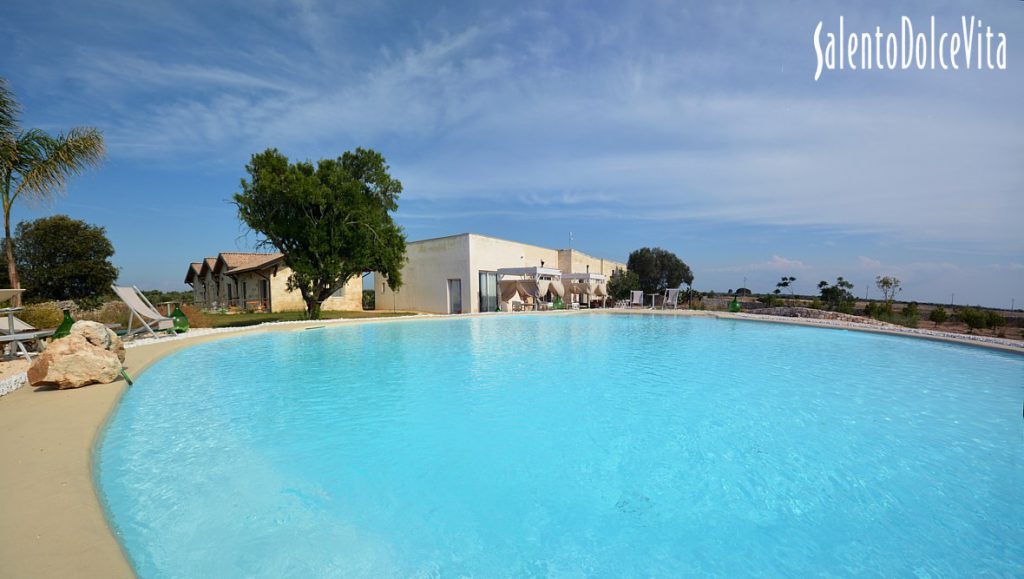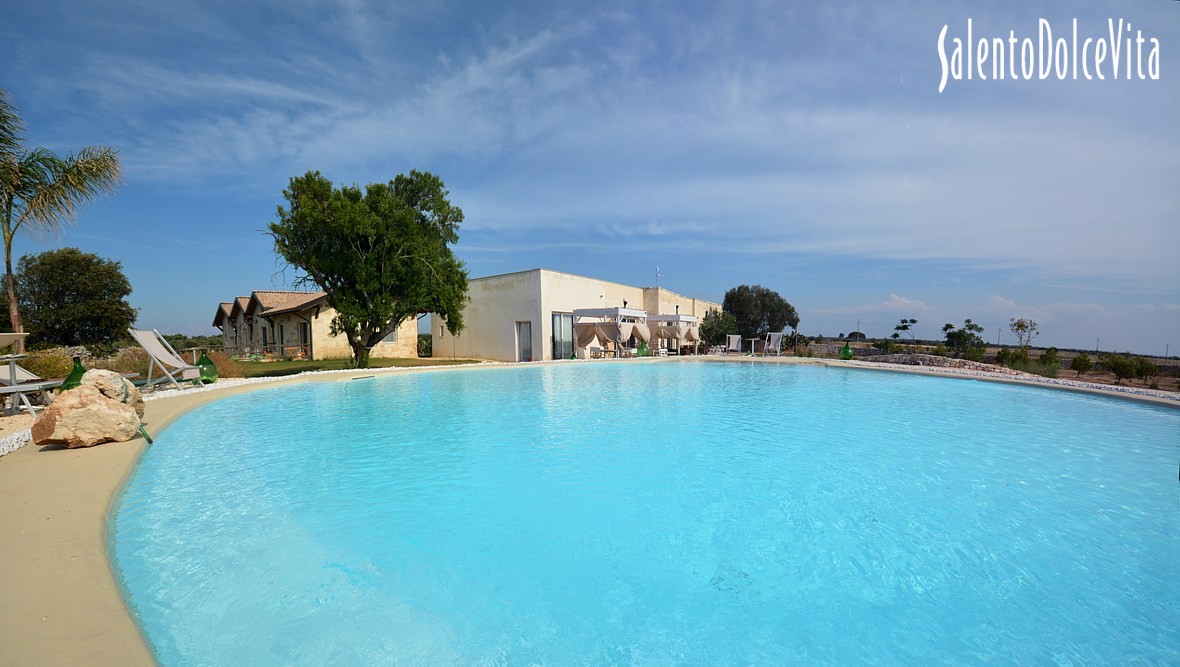 Obviously timeless, the Olympic pool remains a modern classic, even here in the most beautiful Salento villas.
Important and impressive is, for example, that immersed in the green of Masseria Falchi, in Acaya, a few kilometers from Lecce.
The full and pure "Masseria" style loved by many combines the country setting with exclusive luxury, rich in style and simplicity.