Beautiful farmhouses with examples of masonry furnishings, where building history and desing history meet.
Once they were mostly a peasant necessity.
Today, they are a classy design virtues.
The masonry furniture is found in many ancient farmhouses and revisited to meet the most modern needs, so as to become so chic to inspire many architects to revisit and re-launch the concept even in the most modern buildings.
Let's see some beautiful examples of Salento farms where lime and masonry systems create precious spaces and match with the large and Mediterranean space of the exterior.
Space saving and refined beauty
Lime walls and dry walls are a leitmotif in the bright spaces of La Masseriola, farmhouse with pool, in full Mediterranean perfume, in the area of Patù, Salento, Southern Puglia.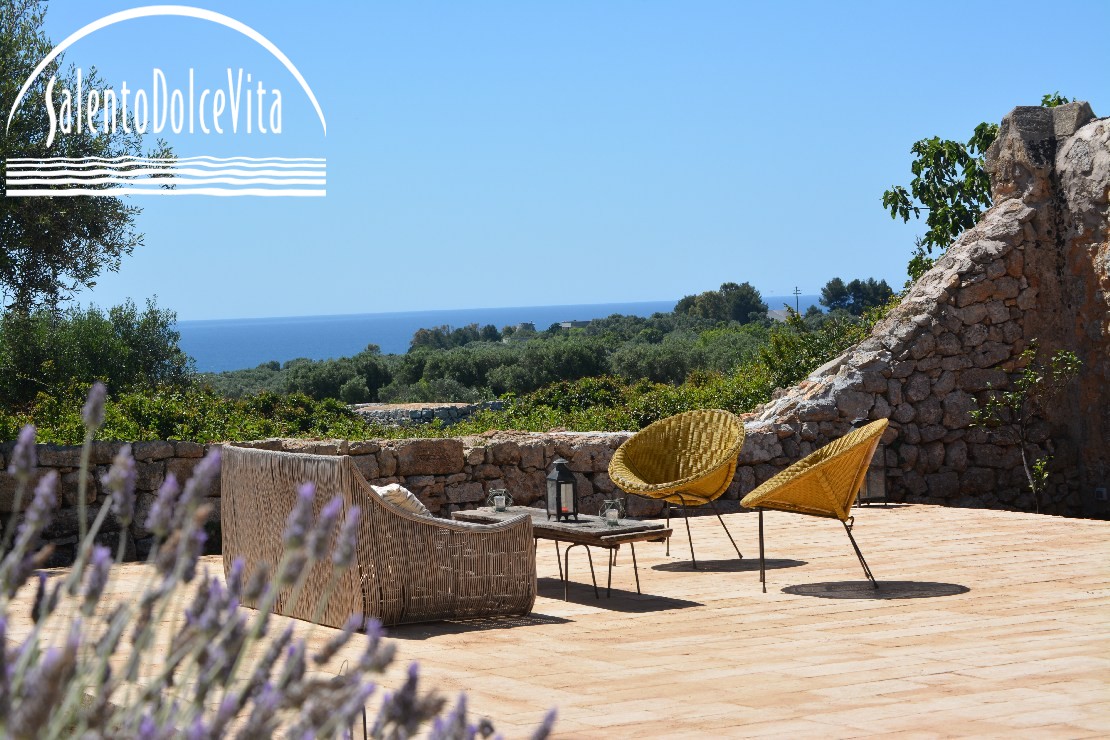 Dry walls are not just a line between sky, countryside and this intimate space full of light; they are also an element that gives color and intensity to the structure, tinging it of an ancient building tradition that is today incredibly stylish.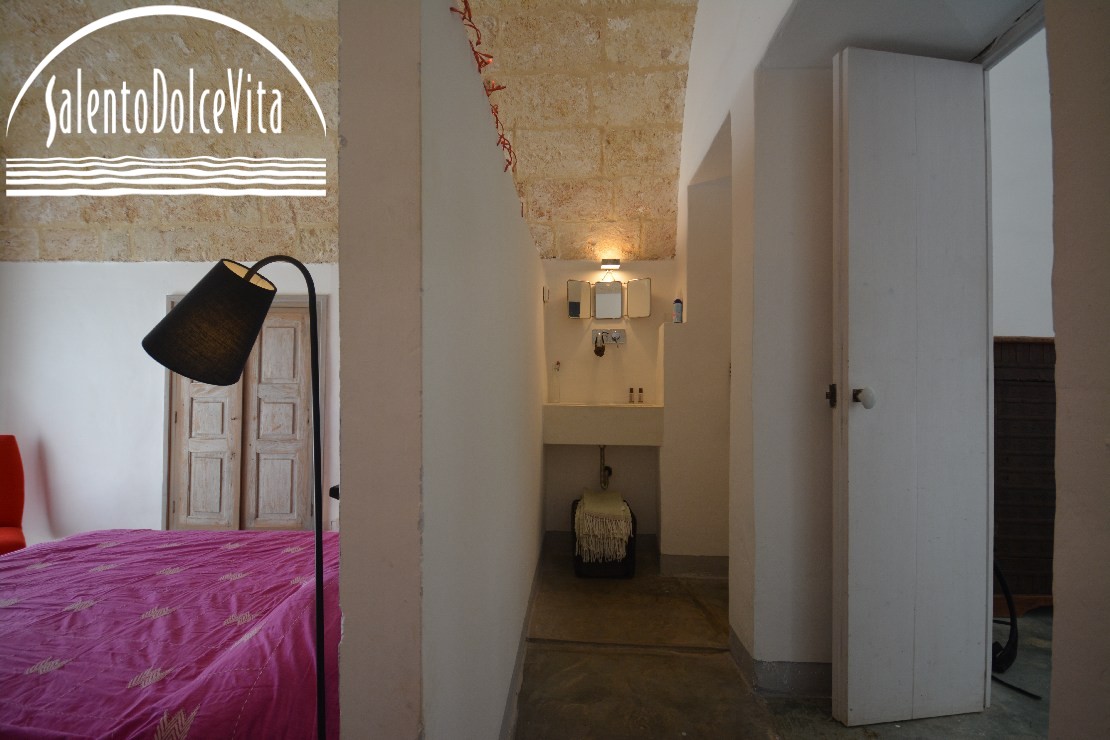 Masonry inside, instead, to delineate almsost imaginative spaces, where corner lie behind a separation that becomes headboard of the bed and a timeless as practical masonry kitchen, accompanied by lime and concrete slabs that become a living room, changeable thanks to its always different coating, to be combined with curtains, tablecloths, alternating seasons
Double twist concept: farm style and luxury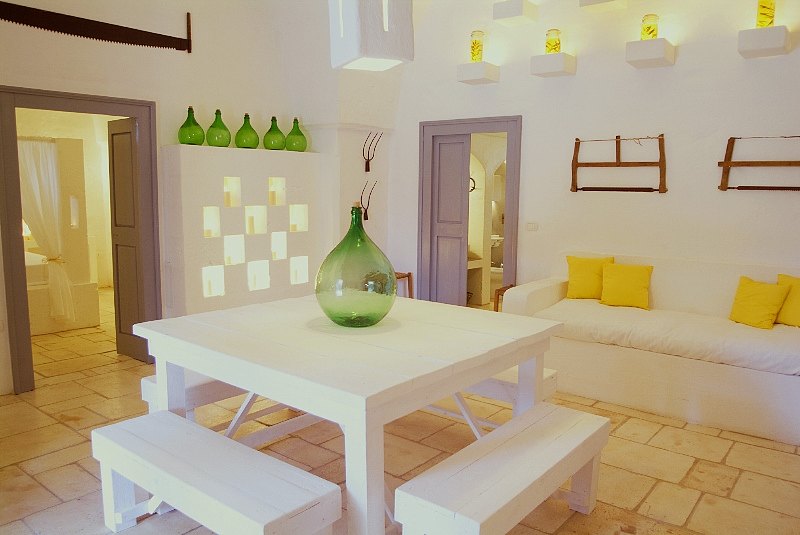 The masonry furnishing in the living areas of the Masseria Mezzaluna, Maruggio, is part of the constellation of peasant quotations present in this ancient masseria, fresh and precious.
The concept changes in the exterior, where the frugality of a time leaves room for the luxury of a pool in the olive trees and the beautiful wooden gazebo.
The idea of masonry and lime furniture is constant, even in the bedroom where drapes, white curtains and soft lights give movement to a concrete bed and sofa.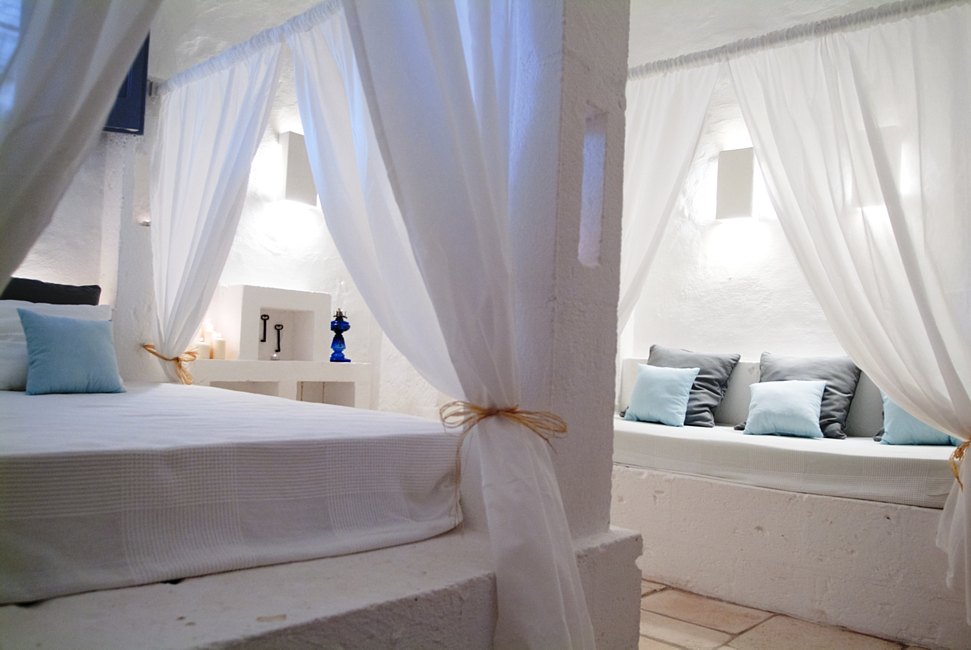 The softest relax object, lying on the hardest support, is also traversed in the sleeping area and in the sea-view terrace of Casa Bellavista. The sea is always visible from the bed, and always from the lawn, first thing in the morning and last thing to see at night, you can admire the fresh glow of the terrace, to remember that everything here must be aimed at mental and physical well-being.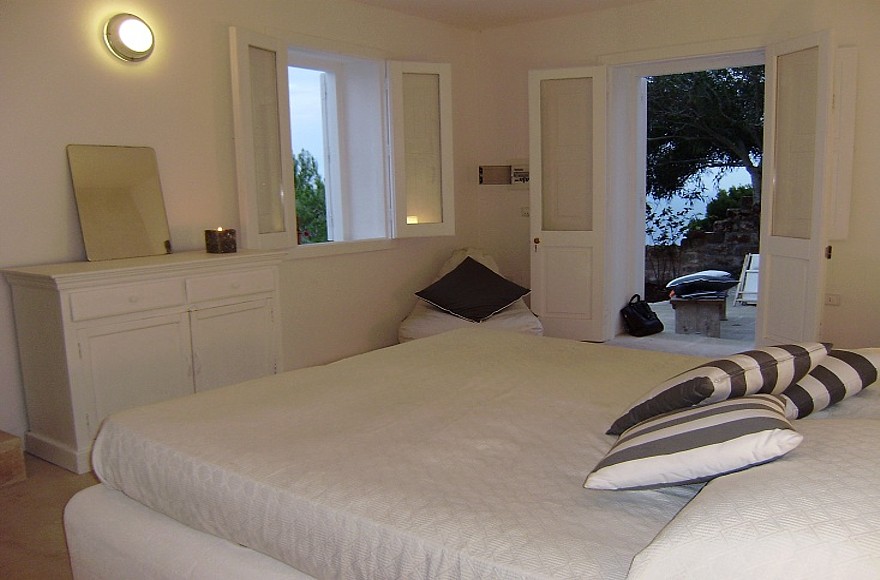 The masonry furnishings, without too much embellishments and indeed so classy, is found in La Margherita farmhouse, where in the kitchen and in the bathroom, in the bedroom and in the living room, stone and concrete become practical spaces that give rise to Sideboards, shelves or coffer of comfortable bathtubs.