Let's find out some secret gardens in the villages of Salento, Puglia, embellishing farms, period buildings and villas suspended between the sea and Mediterranean nature
The territory of Salento, Puglia, South Italy, is starred with amazing small villages ;
they boast peculiar architectural and artistic elements, from the noble palaces of the Renaissance period to court houses, underground oil mills and historic farmhouses.
But even private buildings are often characterized by particularities and gems of great interest, as in the case of "secret" gardens, enclosed and guarded between stone walls.
Today we'll take you to some of them, in small villages very close to the beautiful Salento coast, definitely noteworthy.
Corte di Pietra, close to the white gold cost of Castro Marina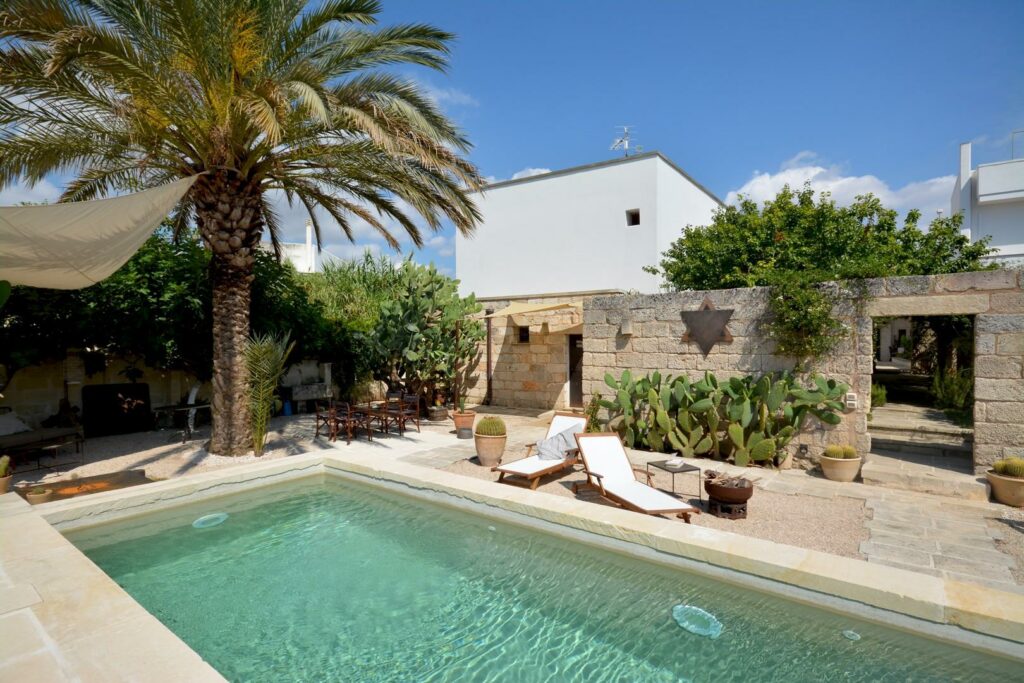 In the historic center of a small town in Puglia just 4 km from the sea of the picturesque port of Castro Marina, the pearl of the Adriatic, there is this beautiful villa with swimming pool with a strongly Mediterranean architectural style and interior choices that embrace different international styles.
The living and yellow stone gives an exotic charm in enclosing areas of shade, alternating with flowerbeds with succulent plants; the whole surrounds a small swimming pool that gives a visual and sensorial peace of mind.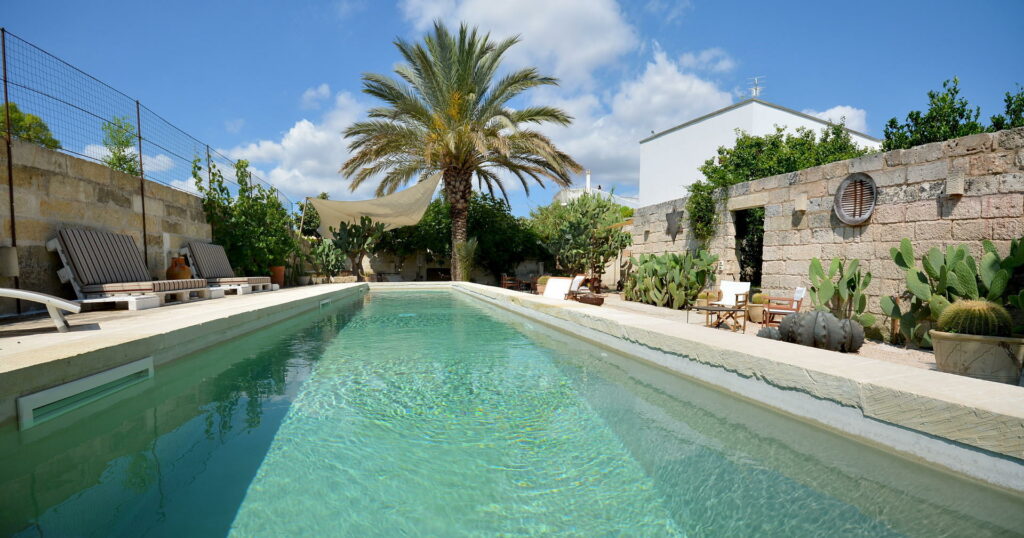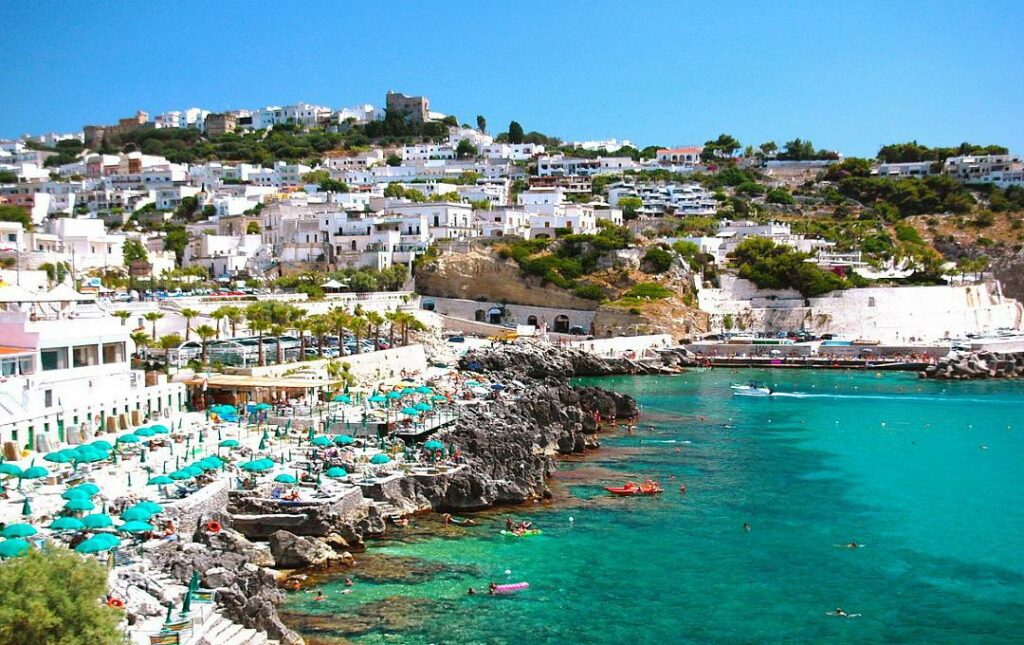 Among the villages of Salento Muro Leccese is definitely worthy visiting; an ancient Messapian center rich in history and culture, with medieval and Renaissance buildings of great value.
It is located just 10 minutes by car from Otranto.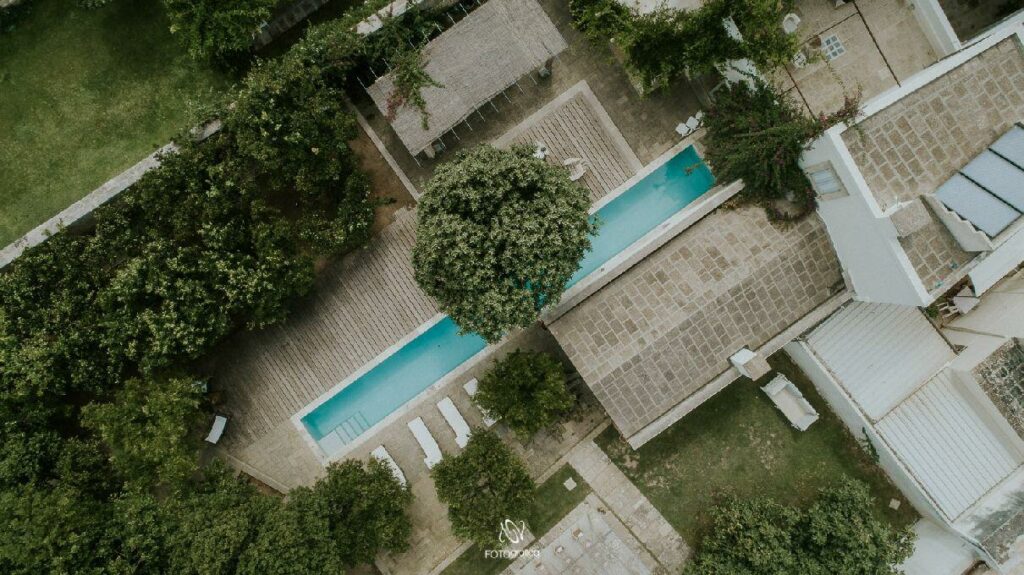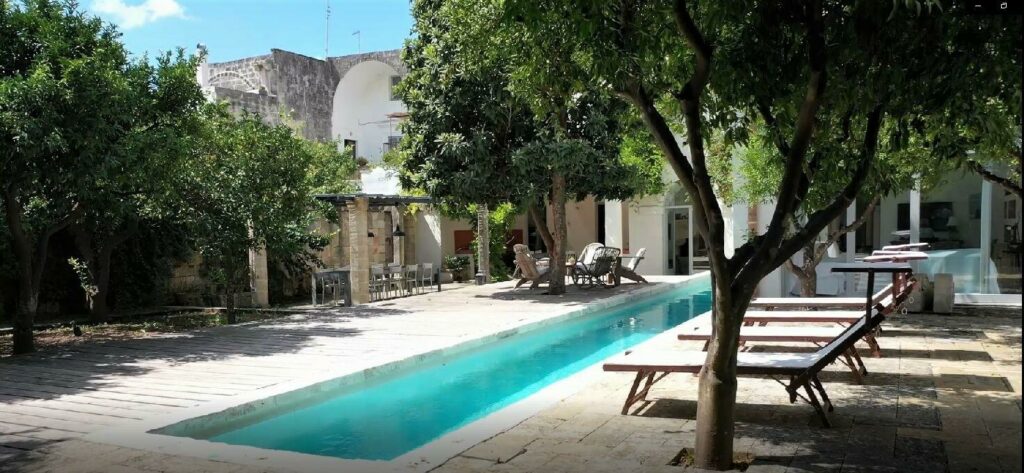 Muro Leccese takes its name from its ancient Messapian walls (today two meters high but originally it used to be higher than 7m). However, the name may also derive from "Moro" (ie Saracen, Mauritanian), as shown in the local coat of arms where is a Moor and also a wall.
In Muro's medieval center there is a street, called Via Salentina, along which the ancient artery of the town extends, built following an underground stream.
All the courtyards of this small artery are equipped with a well to draw from the underground aquifer.
In the lattice of the historic center, a few meters from the main square, we find is Palazzo Artes. Period building, dating back to 1500, embellished with works of art belonging to the owners' private collection, has maintained the original structure that develops around a small internal cloister characterized by a portico with three arches in which a very high palm stands .
Here you can spend your stay of sun, culture, art and relaxation.
The gem that makes this place even more beautiful is the garden, with a luxuriant orange grove and pergola under which you can spend hours of refreshment and relaxation.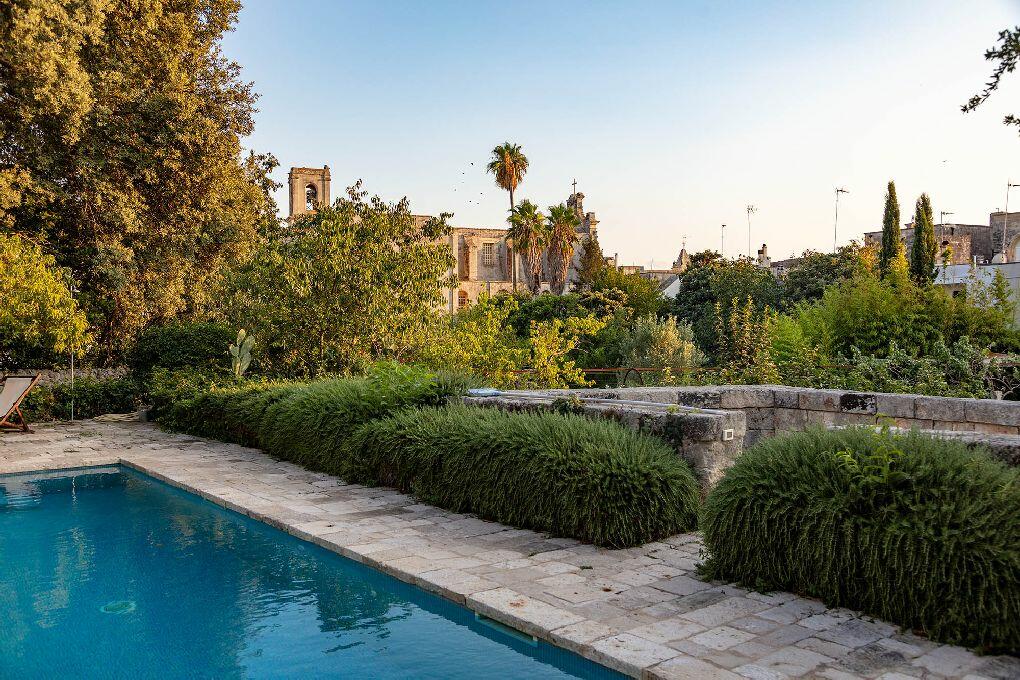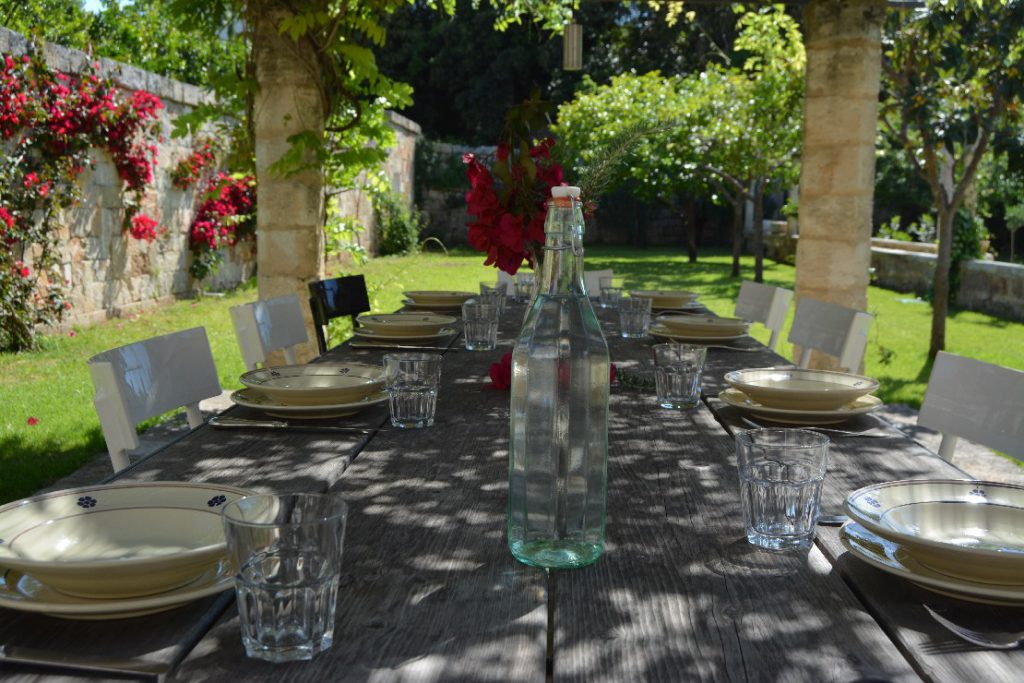 Still in the scenery of Muro Leccese and hidden in its network of court houses in the historic center, we find Palazzo Ferras and its garden;  a 16th century building, with interiors on two floors, with a beautiful swimming pool area outside in a large garden, where there is also a pergola equipped with a table for 20 seats.
Seen from here, the historic center of the town appears as a carpet of gardens and private greenery, where everyone enjoys privacy but all contribute to the general beauty of the place.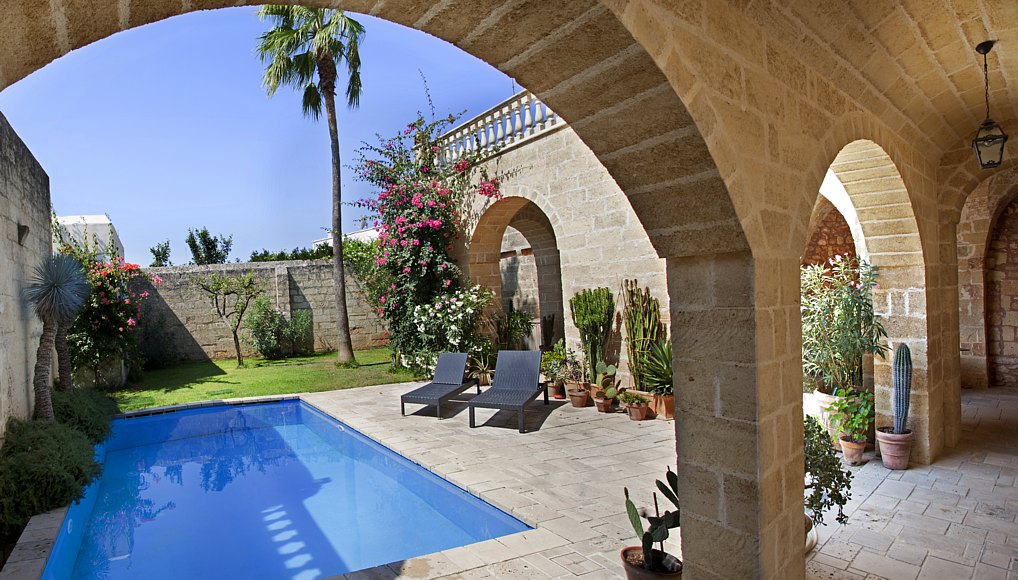 Palazzo Tre Cuori, in the lively village of Salve, near Santa Maria di Leuca, Pescoluse and the famous Maldives of Salento, is a villa with swimming pool hidden in the historic center.
The modern interior design borrows the beautiful light that comes from the outside, unshielded despite the counting walls that protect the privacy of the guests of this privileged place.
Read more about Apulia Masseria farms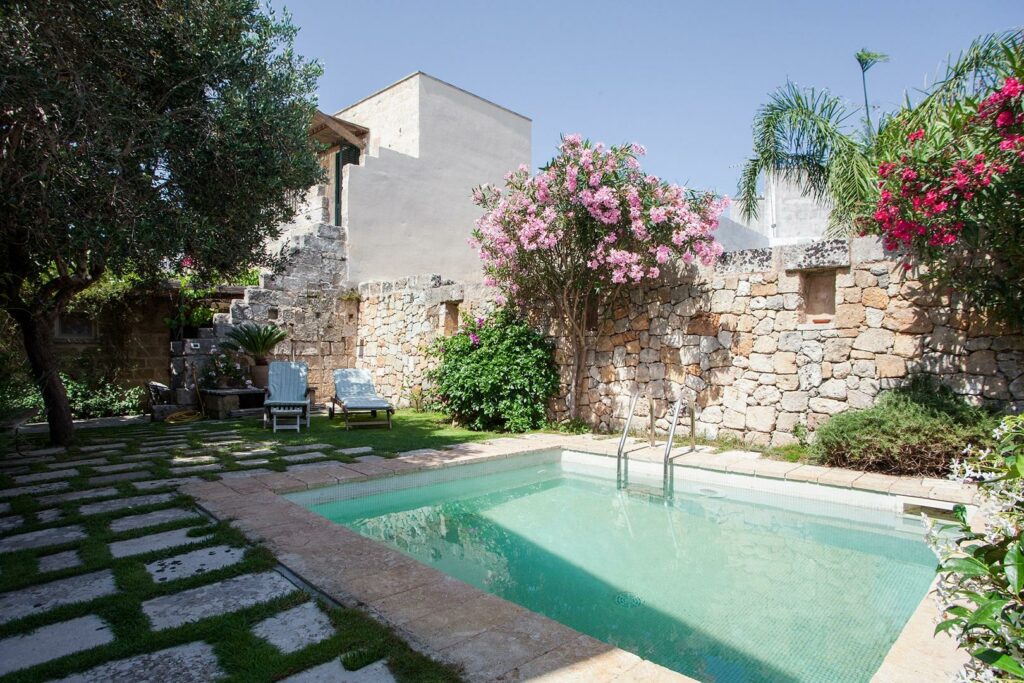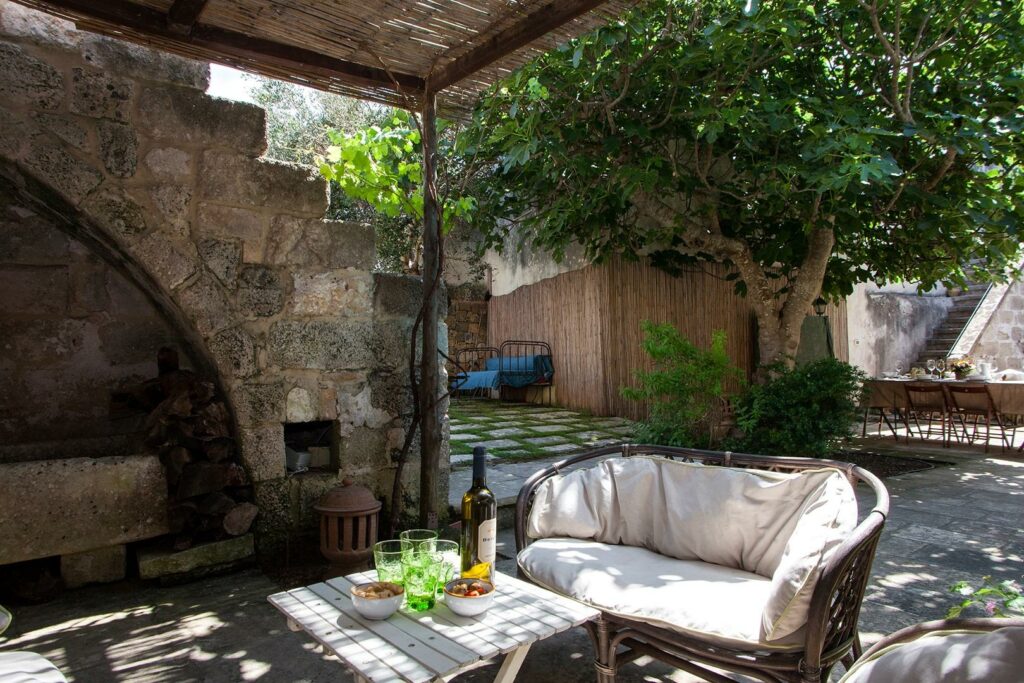 Andrano is a small but interesting town just 3 km from the sea, a beautiful stretch of the rocky Adriatic coast just south of Castro.
Among castle, Renaissance churches and sunny squares, Andrano is a place for interesting photographic walks.
Here, in its alleys, we bump into Casa del Fico, a delightful house with an ancient structure typical of small villages like this one.
In fact, its rooms are arranged around a central courtyard, which today is embellished with a private swimming pool and green area.
Even in the star vaults, in the original drywall sections, we see how in the skilful restoration and modernization, the architectural features have been splendidly recovered and enhanced.
Choosing one of these houses for a holiday in Salento is a beautiful way to get to know and experience some important aspects of the territorial culture, enjoying the sea, good food and all that this land can give, and go even further.