In a punch of years Salento has become one of the cult destinations for beach/music/culture lovers, attracting Italians and foreigners of all ages.
More and more European travelers are intrigued by the Apulia (in 2014 featured by the Lonely Planet as one of the ten MUST SEE regions in the world), and come back several times in its Southern extremities.
What made travelers love this place in this month of the year, despite the flows, more or less crowded beaches and the costs of the high season?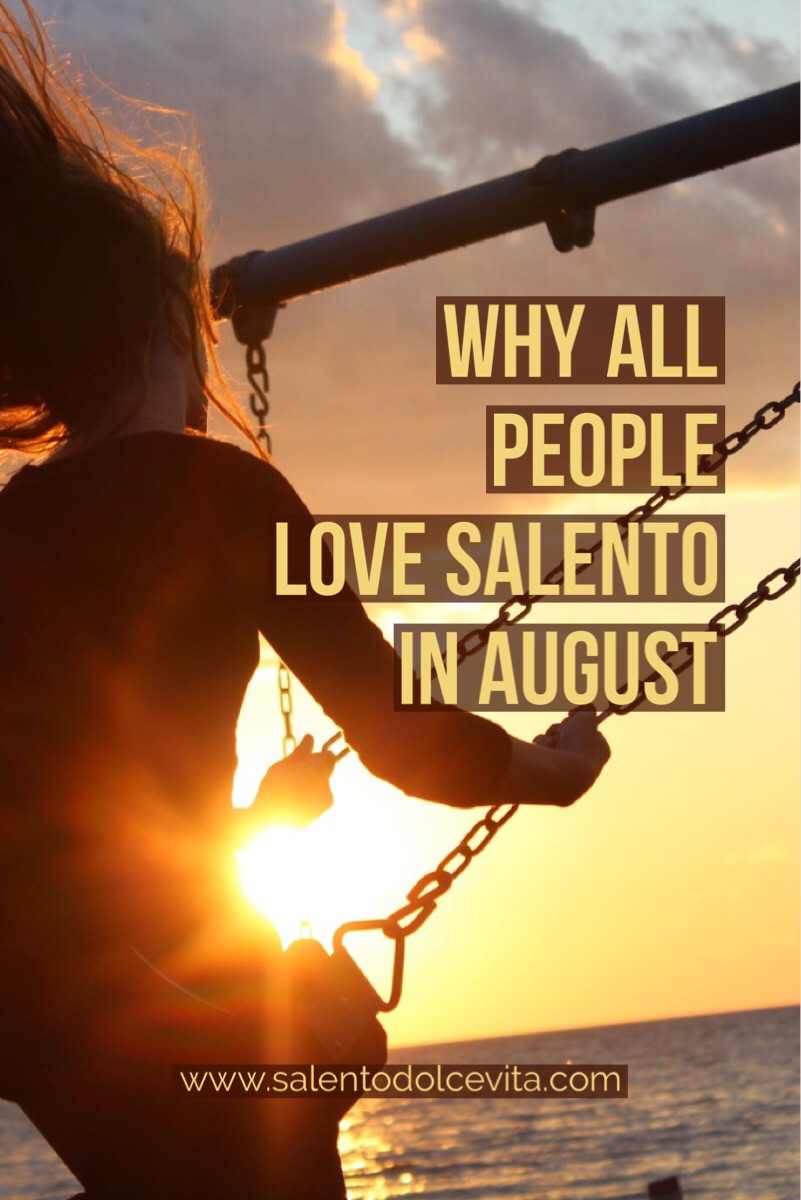 Perhaps the very different concept of "crowded beaches" and "high season."
And not only this Let's see what are the things that make love Salento in August.
Pop & chic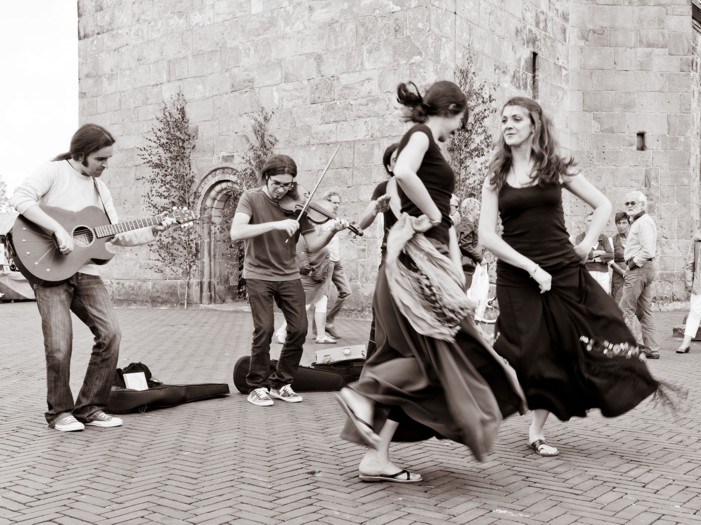 The local music and the charisma of pizzica dancers were, until a few years ago, a niche preference, something that particularly attracted experts of music and / or anthropology scholars.
Then all of Italy was plucked and, within a few years a very local event such as the Night of Taranta has become a super popular music national event, seen all over the world.
Despite the "pop" aspects that (thankfully) grow, the chic and mysterious charm of Salento traditions remained fairly entrenched, then continuing to attract both mainstream lovers and "niche" fans. The latter are particularly fond of…
… Hidden oasis, isolated even in August

Such a long and diverse coastline allows you to choose in every summer day, even in August, the place most suited to your daily sociability.
We have already written what are some of the "hidden oasis" of Salento; keep in mind that even in August you can choose them if you really want to enjoy the sea and a bit of silence.
High season = promotions
No paradox. Even during the period when prices rise everywhere, in Puglia and in Salento it is not rare to find excellent opportunities to dream location, in excellent positions.
Salentodolcevita is one example, eager to pamper ever year regulars or attract new friends with proposals as follows: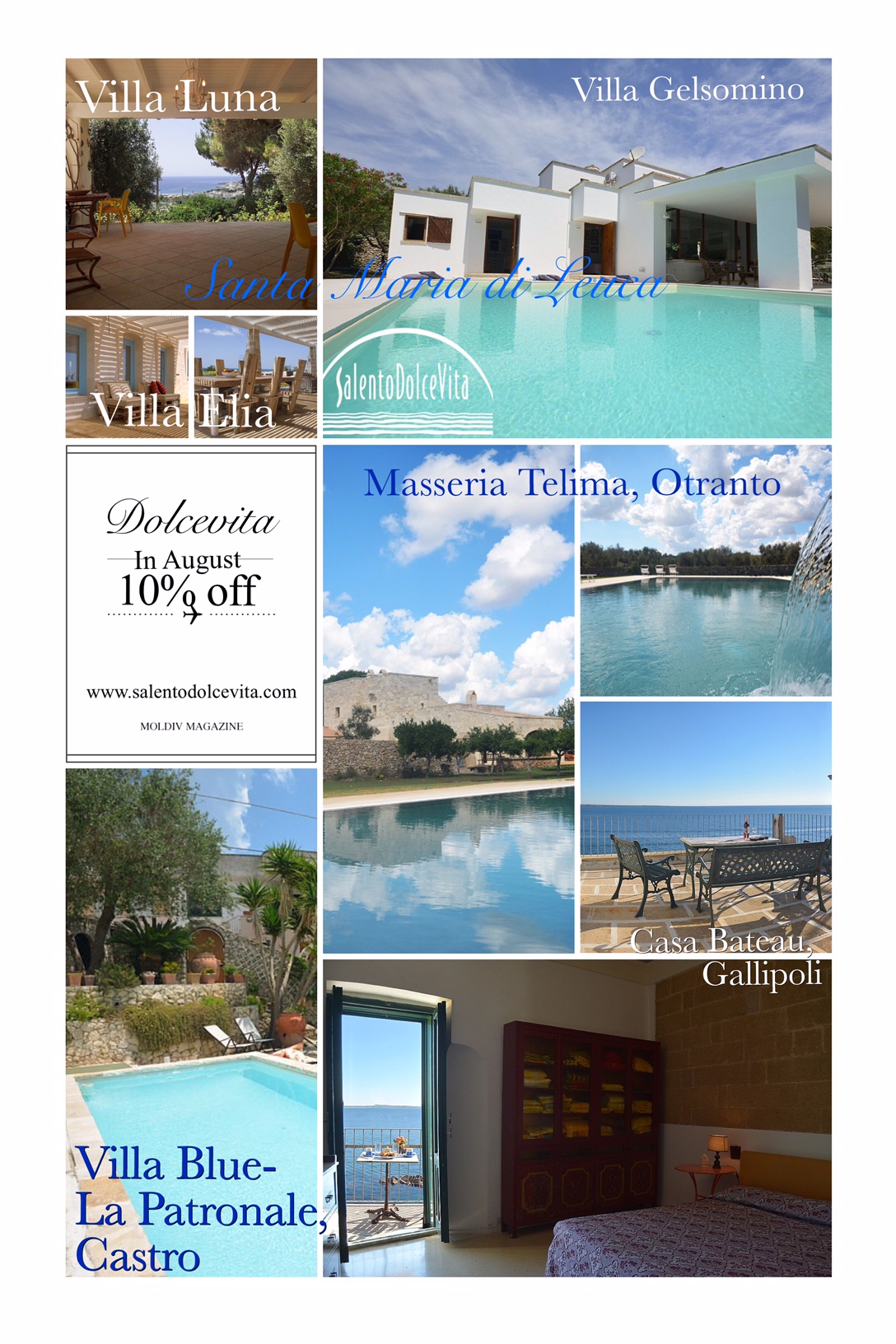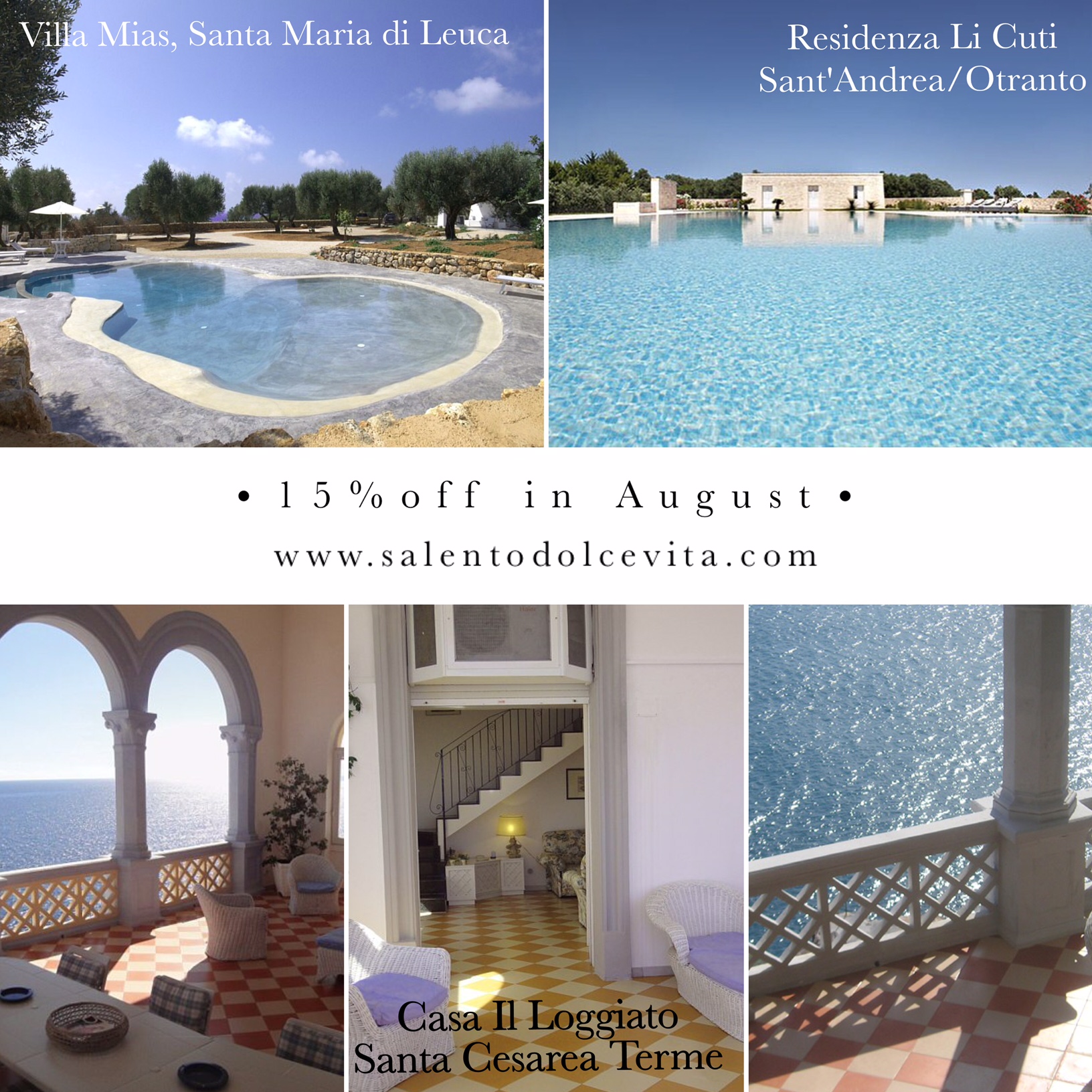 August festivals
 Talking about local culture, the Notte della Taranta (27 August in Melpignano) is not the only opportunity to appreciate folk music, indeed, for the true fans of the genre, local August festivals i are the true events not to be missed.
Puccia, sceblasti, pitta cu le ulie … are words that can't be understood without being "tasted". It will be like going to another country and learn a new language, tasting foods difficult to pronounce and impossible to forget.
Wine events
Local love and passion for street food and gastronomy, festivals and open air nights is bound to the local very deep love and passion (and expertise) with wine!
Here you can read a list of wine events in august.
Seasonal direct flights
A very pragmatic aspect that increases the love of many people for Salento in August (but also July and September) is the presence of so-called "seasonal flights" ie the increased number of flights connecting Bari and Brindisi with some major cities of Europe but al also with smaller province airports.
Check the website www.aeroportidipuglia.it to learn more about it
Have you ever been to Salento in August? What did you love more and what you don't miss at all?